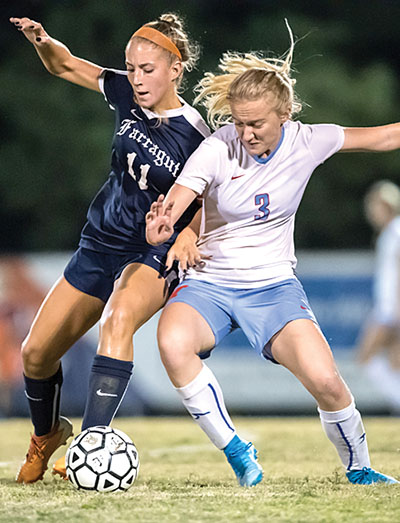 Farragut recently finished its home regular season schedule, celebrating Senior Night, with a 5-3 win against District 4-AAA rival Heritage. (Right) Lady Admiral Emma LeClair, senior captain, left, battles an HHS Lady Mountaineer for possession of the ball.

Farragut High School girls soccer head coach Drew Payne makes no secret he and his young team are looking toward the future — and on Monday night, Oct. 14, the coach said he was pleased.

"I think we played the best that we've played all year," Payne said after the Lady Admirals nabbed a 6-0 victory over William Blount in the District 4-AAA Tournament quarterfinals at Farragut Soccer Stadium. "We possessed the ball and our possession was good.

"In the first half our possession was really good, and that's the way that we want to play," he added. "We won't be able to play that way the rest of the year. But this game is promising. It's promising for the future and we've got a lot of freshmen and sophomores playing."

The third-seeded Lady Admirals (6-11-3) eliminated the Lady Governors (10-8), who didn't win a district match all season but were 10-2 in their non-league games.

Farragut, which outshot William Blount 9-2 over the opening 40 minutes, tallied four times before halftime.

The Lady Admirals took a 1-0 lead when sophomore Toni Stark scored in the eighth minute of the match. They were far from finished.

Farragut extended its advantage to 2-0 when senior captain Emma LeClair found the back of the Lady Govs' net in the 15th minute.

"We've definitely been through some rough patches this year," said LeClair, who scored a pair of markers against William Blount Monday night. "But we beat this team earlier in the season, so we had the confidence coming in that we could win."

"We didn't want this to be our last match," FHS senoir Abby Rhodes said. "We knew what we had to do coming in."

Farragut, which outshot the Lady Governors 17-6 in the match, took a 3-0 lead on a goal by sophomore Ashton Wright in the 21st minute before LeClair closed out the first-half scoring in the 34th minute.

The Lady Admirals got goals after the break from freshman Annabelle Ekern (41st minute) and Maddie Martin in the 70th minute.

FHS sophomore goalkeeper Caroline Ekern made six saves.