MD Weight Loss & Wellness Center set to open sometime next month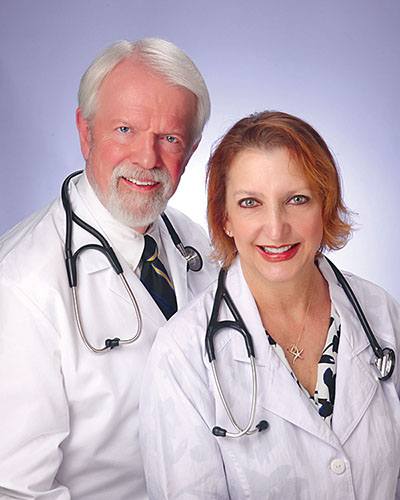 Dr. Dennis R. King, and wife, Mary King, will help head off weight-related illnesses at MD Weight Loss & Wellness Center, to open soon in Faragut Medical Center, 11416 Grigsby Chapel Road.

A long-time Farragut physician and registered nurse/family nurse practitioner are heading off the cause of many weight-related illnesses at the forefront, opening MD Weight Loss & Wellness Center in Farragut.

Dr. Dennis R. King and his wife, Mary J. King, plan to be in their new Farragut Medical Building office, 11416 Grigsby Chapel Road across from Walgreens and Little Bangkok, in a month.

"I can't tell you how super-excited we are about this," Mary said. "We are so passionate about this."

The Kings will be offering free consultations, followed by a scheduled appointment that includes a health exam with an EKG, lab work and other tests before coming up with a customized weight-loss program, which may include both diet and exercise and possibly medication if needed, he said.

"We've both been working in health for a long time," Dr. King said, noting each have been in the medical field more than 25 years.

"I've seen a lot of illnesses — diabetes, hypertension, heart disease, lots of different illnesses — and I've struggled to treat those patients for these illnesses; but I've noticed a lot of these folks had problems with being overweight or obesity.

"I came to the conclusion (that) what's causing all these other problems, in large part, is being overweight and obese," Dr. King said. "And here I am, I am treating the after-effects.

"I'm giving them all these medications, trying to treat these illnesses, and as an afterthought I'm saying, 'Oh, by the way, you need to lose weight.'

"I thought to myself, 'How are they going to lose weight that way?' That's really not much for them," he added. "Of course, in a busy practice you only get to see your patients, if you're lucky, for 10 or 15 minutes — usually less than that — so you don't really have time to teach them how to lose weight because it's a very complex, difficult problem.

"They come into the office in two or three months heavier than they were before, and their problems — the diabetes and high blood pressure — are worse. So maybe we should start at the front end of this and try to help people lose their weight, and maybe we can avoid all these long-term illnesses that directly come out of being obese."

After all their years of working in primary care, the Kings decided to dedicate their time in a practice to head off the weight issue.

"What better way to help folks than to help prevent a lot of the illnesses we've been treating all those years, or at least make it easier to treat the illnesses they do have by helping them lose weight," Dr. King said. "And then, (Mary) jumped on the bandwagon right away.

"We kind of figured out people want to lose weight for different reasons," Mary said. "There's always the focus that everyone wants to look good in their clothes.

"But, really, other people want to lose weight to get healthier, or they already have a diagnosis of diabetes, high blood pressure or had a heart attack or something, and they had to get healthier," she added. "And some people are healthy and want to be the best they can be."

Along with her nursing experience, Mary also worked in a YMCA at a hospital years ago.

Both the Kings belong to the Obesity Medical Association and Obesity Society.

"We go by their guidelines for care for weight loss," Mary said. "We want to make sure everything is science-based."

"… And not just pushing medication," added Dr. King, who also has a degree in psychology and was in the mental health field prior to his 25-plus years in the medical field.

The Kings are accepting patients on a waiting list. For more information, call 865-392-1717 or visit online at mymdweightloss.com

"Medication has a place there, but there's the knowledge about diet, food and the psychological aspects of weight loss. It's a multi-faceted problem that has to be dealt with, not just a simple quick fix.

He warned the weight loss in society is "getting worse and worse over the years.

"We read a recent study from the National Institute of Health that says just over 70 percent of the U.S. population is either overweight or obese," Dr. King added. "That's seven out of 10 people."

Mary said while many insurances do not cover weight-loss programs, she suggested people contact their insurance company because some are realizing the problems resulting from being overweight.