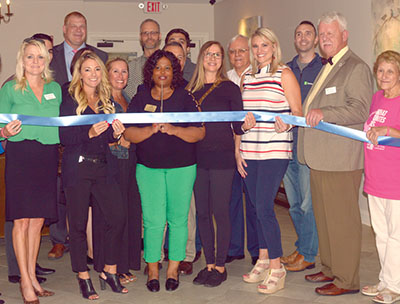 Autumn Care Senior Living Community Farragut celebrated its memory care unit ribbon cutting at the community, 400 Herron Road, Tuesday, Oct. 8. On hand, from left, were Crystal Palmer of All Ways Caring; Knox County Mayor Glenn Jacobs (back); Billie Jo Mashburn, Amedisys; Brandy Manifold, Autumn Care community relations director; Carol Huddleston, (with scissors) R.N. and Autumn Care executive director; Mari Faulk, Autumn Care chief operating officer; Tom Sharp; Ginger Tucker, Amedisys account executive; Farragut Mayor Ron Williams; Brenda Herron and other Chamber members.

Autumn Care Senior Living Community "is always changing."

"There are so many great things," said Community Relations director Brandy Manifold about Autumn Care, which has three West Knox communities — Farragut, along Canton Hollow Road and in Karns.

A year after Autumn Care Senior Living Farragut. 400 Herron Road, opened its 16-bed secured Memory Care unit, it celebrated that opening with Farragut West Knox Chamber of Commerce members during a ribbon cutting, hosted by FWKCC, at the senior community located across from Farragut Branch of Knox County Libraries, Tuesday, Oct. 8.

The past year offered the staff an opportunity to put certified programs in place and get its residents acclimated to the unit.

"In January, we adopted a Best Friends approach (to caregiving for the unit)," Manifold said. For that, she went to Kentucky.

"We needed a master trainer to teach the Best Friends approach (to the Autumn Care staff)."

In the process of getting that approach started and "building an environment where we could implement that Best Friends approach," she said, explaining it includes a Bill of Rights and encompasses everything — communication, contact, redirection — in which everyone on campus is involved.

She said it is a matter of addressing a resident by name and respecting the person. It also involves developing a life story — a detailed, intimate interview with the families.

"The life story tells who is living, who is deceased, where they were raised," Manifold said.

In June, she said the Autumn Care community became certified in the approach.

"It means we're going to do everything for their best quality of life," Manifold said.

She pointed out the unit already is almost full.

"We have one bed left," Manifold said.