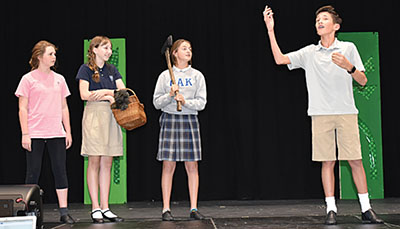 Tate Gilbert, right, as the Cowardly Lion, rehearses his big number, "If I Were King of the Forest," as Kate Alexander (Scarecrow), left, Hannah Campbell (Dorothy), center, and Charlotte Cole (Tin Man) listen. CAK Middle School musical theater department will present "The Wizard of Oz" starting tonight (Thursday, Oct. 24).

Follow the yellow brick road to Christian Academy of Knoxville this week as CAK Middle School theater department brings the beloved "Wizard of Oz" story to life.

The musical, which stars Hannah Campbell as Dorothy, Charlotte Cole as the Tin Man, Tate Gilbert as the Cowardly Lion, Kate Alexander as the Scarecrow, Ava Curcio as the Wicked Witch, and Cooper Speck as Professor Marvel/the Wizard of Oz, kicks off in the school's Main Event Center, 529 Christian Academy Way. 7 p.m., tonight (Thursday, Oct. 24), and will continue at the same time Friday, Oct. 25 and Saturday, Oct. 26, with a matinee performance at 3 p.m., Saturday.

An additional school outreach performance will begin at 10 a.m., Friday, Oct. 25.

More than three dozen additional students round out the cast and technical staff, all under the direction of Peggy Filyaw, who founded the middle school's musical theater department, which is marking its 20th anniversary this year.

Filyaw also teaches choir and piano lab and has been with CAK for 24 years. In addition to starting the middle school's musical theater program, she also began the high school's musical program 16 years ago.

"I have been blessed to have many who have helped through the years, particularly Janet McLean, former CAK middle school Bible teacher, who helped me with every musical theater producution I have directed at CAK – a total of 32 shows," Filyaw said.

She also noted with this particular production of "The Wizard of Oz," she has been assisted by Shari Ford Dorman, who designed the set; April Quinn, "who assisted Shari," and Laurie Bowles, who was in charge of choreography.

Admission is $10 for floor seating and $5 for bleacher seating.