Leading by 1 stroke at 17th, Lady Ads finish two strokes behind state champs; FHS boys are fifth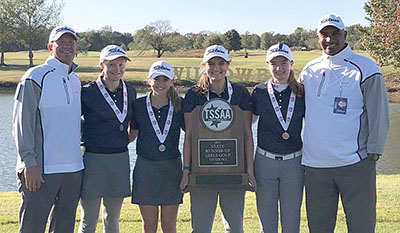 Farragut Lady Admirals golfers with their Class AAA state runner-up plaque alongside head coach Jon Higgins, right, and assistant Jason Mayfield. Golfers, from left, are Gabby Starling, Lindsay Ott, Aynsleigh Martin and Lexanne Halama.

Farragut's girls were one stroke ahead with two holes to play, which would have earned a Class AAA state crown if finishing the full 18 on top at Willowbrook Golf Club in Manchester Wednesday, Oct. 16.

However, "It didn't go our way, we didn't finish as strong as we would have liked," said FHS head coach Jon Higgins, as his Lady Ads finished as state runner-up, two strokes behind state champ Station Camp (298 versus 300) after two days and 36 holes.

Higgins' girls did rally from an eight-stoke deficit heading to the back nine holes Wednesday.

"I was really proud of the way that they battled, their toughness, and how they fought over both days of the state tournament," Higgins added about his girls. "I thought they did a wonderful job of competing."

Farragut's boys finished fifth among their eight-team state field.