Maddux delicious empire just moved west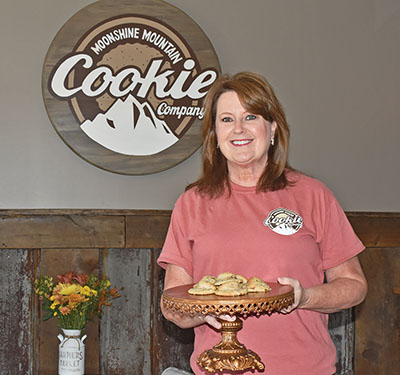 Robin Maddux shows off some of the delicious cookies made at Moonshine Mountain Cookie company.

With the taglines "Just enough 'shine to give it that extra flavor, but not enough to upset the preacher," and "It's not just a cookie — it's a dessert." Moonshine Mountain Cookie Company owners Mike and Robin Maddux have built a delicious empire that just recently moved west.

The company, already serving a strong customer base in West Hills, opened a second store earlier this month at 10205 Kingston Pike, Suite D, bringing its one-of-a-kind mouth-watering treats that much closer to Farragut.

Fresh ingredients — some including "just a splash of original Tennessee Moonshine" — are prepared in a micro-bakery environment using a process that keeps the cookies intact, moist and resembling a small half scoop of ice cream — perhaps as a nod to Mike's love for that treat, too.

Offering flavors such as Caramel by the Sea (voted Best Cookie in the State of Tennessee by thedailymeal.com), Choco Kahn, Rocky Top, Nutty Buddy Holly, Happy Pappy and Sugar Shine, the new location also is selling a generous selection of ice creams — at Mike's suggestion.

"He thought cookies and ice cream would go hand-in-hand," Robin said affectionately, adding she also crafted a unique "cookie bowl" as a serving option, along with a special ice cream cookie.

The business officially began four years ago at 7343 Kingston Pike, but had been nearly three decades in the making.

Robin first developed the recipe as a Halloween promotion for the couple's then pizza delivery business, The Pizza Doctor.

"Our friends and family had been asking us to do it for 30 years," said Mike, who also owns Fun Makers and Rocky Top Dog Fence, noting they finally took the plunge with one of his college roommates, Rick Dunlap.

Moonshine Mountain also has built a massive following online, selling and shipping their unique cookies all over the world.

The company "does a lot of corporate gifting," Mike said. "At the end of the year, when companies send gifts to the clients, they come to us. Some need 10 to 20 dozen, while others might need 1,000 dozen.

"I'm excited to be Knoxville-based — we have customers all over the country," he added.

"... We are unique."

The company may expand further in the future, as Mike said it has been approached by franchise opportunities. For now, however, the focus is on the new 4,000-plus square foot location, which provides an oversized kitchen and a spacious "packing room" for its online orders, along with a country-theme decorated storefront.

Store hours are from 10 a.m. to 8 p.m., Monday through Thursday; 10 a.m. to 9 p.m., Fridays and Saturdays. It is closed Sundays.

Moonshine Mountain will celebrate its grand opening with a ribbon cutting hosted by the Farragut West Knox Chamber of Commerce Wednesday, Oct. 30.