Encouraged by Shaq's son at UCLA, Patel fighting heart defect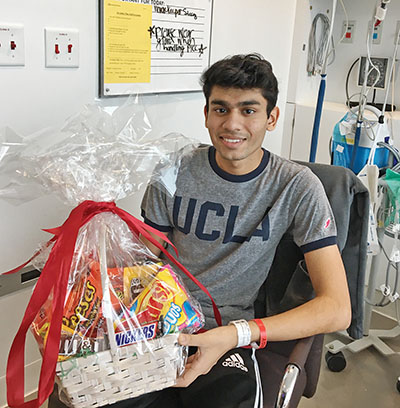 Nikhil Patel, is pictured Wednesday, Oct. 16, the day he was finally allowed to leave Cleveland Clinic.

Nikhil Patel had his life perfectly planned. Among the top Class of 2019 Farragut High School graduates, he had worked hard and earned the opportunity to attend the University of California at Los Angeles — and had every intention of being there, right now, studying toward his ultimate goal of becoming a cardiologist.

But in an unbelievable irony, Patel instead has been fighting for his life over the last three months, having been diagnosed with a previously undetected congenital heart defect that led to two open heart surgeries. It puts him on what will likely be a gradual road to recuperation, leaving his college career on hold — at least for now.

"His recovery will be at least three months," his mother, Anita Patel, said on Saturday, the day after he was formally released from the Cleveland Clinic in Ohio, following his second surgery. "The goal is to go to college in January, but he is going to base that on how he is feeling and the advice of his cardiologist.

"We have learned a lot about listening to your body and letting it guide you and not just going by statistics."

The Patels certainly had no warning that anything was wrong. Nikhil was always strong and active as a four-year member of the Marching Admirals throughout high school and working out as frequently as five days a week. After graduation, he relocated with his family to Augusta, Georgia, and prepared for UCLA.

"Nikhil and I had a 9 a.m. flight on July 27 to move him to UCLA," Anita said. "He had two required vaccinations to stay in the dorms so I had scheduled those and a routine physical with our doctor who is also a family friend of mine from childhood," Anita said. "She told us she heard a murmur, and asked if I knew about it but we had never been told that before so she did an EKG.

"When she saw the EKG, she said she's needed to order an ultrasound''

At that point, Anita called her sister-in-law, Dr. Kim Atianzar, who is a cardiologist in Augusta and someone who Nikhil loves and had job-shadowed over the past year, to intervene.

"I started worrying that we were running out of time because our flight was in two days — I didn't realize the seriousness until she did an echocardiogram, and said, 'I need to talk to both of you,' with a very concerned look."

Nikhil's own aunt had to tell them that his condition was severe and that he had to have it corrected to prevent further damage.

His surgery date was set for Sept. 4 with a specialist in North Carolina. 

Nikhil was given permission for he and Anita to attend new student ordination at UCLA Aug. 14-16.  While there, he met with unexpected encouragement from the son of NBA legend Shaquille O'Neal, Shareef O'Neal, who also underwent open heart surgery while at UCLA.

"I heard from other people that he had had a similar experience, and my mom met him at the student center and they started talking and asked him if he had any advice from his experience/recovery that he could share." Nikhil said. "We ended up talking to him for about 20 minutes, and he really encouraged me to take it easy on trying to come back too soon.

"He said he had tried to come right back to school after his surgery, but he found it difficult ... and he eventually had to withdraw and go home."

"He gave Nikhil some really good advice," Anita said. "He told him UCLA will always be there. Don't rush back.  It meant a lot coming from someone his own age and a fellow Bruin who had his own open heart surgery. He even sent the kindest message after this second surgery encouraging Nikhil on. He's just such a nice kid. 

"Sometimes God puts angels in our path without us ever asking."

Nikhil came back to Augusta and prepared for surgery.  However, three weeks post-surgery, he knew something was wrong.

"He had a home stethoscope, and had been listening to his heart, and told me, 'The murmur is back,'" his mother said. "I tried not to panic, but I heard it too."

Nikhil went to the hospital in Augusta Sept. 25, then he was flown to the Cleveland Clinic Sept. 27.

He underwent his second open-heart surgery Monday, Sept. 30.

It was successful but left Nikhil in excruciating pain, as it was only 26 days after his first.  

He wasn't out of the woods even then. He remained hospitalized with a fever of unknown origins for two weeks, and was finally discharged just last week.

All the while, many family members and friends from around the world, including his former FHS Band members, friends and their families, rallied around him — especially Tonya Alsobrooks, whose daughter, Leah, was and is one of Nikhil's best friends, as she felt led to locally open an account at First Bank to help with medical expenses.

"This is not a Go Fund Me," Alsobrooks said. "This is a private fund where 100 percent of the donations go directly to Nikhil. I just want Nikhil and his family to know we are all thinking about them, praying for them.

"We have felt all the positive energy and the prayers for us, and it has helped so much," Anita said. "That is just how I think of the Farragut community, especially the families involved with the [high school] band.

"People come out in droves for each other, whenever the call goes out. And to have that support, is just amazing."

For his part, Nikhil has begun recuperating and said he is "glad to finally be home" and is feeling "much better" after his discharge.

And he still wants to be a cardiologist.