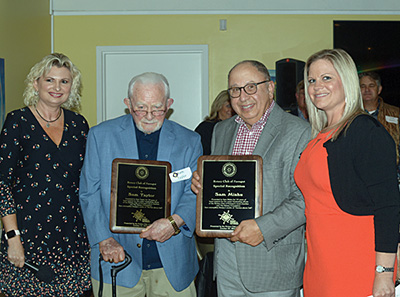 The Rotary Club of Farragut president Staci Wilkerson, left, joined "Dining on the Dock" event chair Teri Jo Fox in presenting special recognition to the "two Sams," Sam Taylor, left, and Sam Mishu, for paying the costs of the wine and food respectively, for RCF's 19th Annual wine-tasting event at Concord Marina Friday evening, Oct. 25.

Rain did not deter more than 100 members of The Rotary Club of Farragut and guests from attending this year's major wine tasting fundraiser, "Dining on the Dock," at Concord Marina Friday night, Oct. 25.

Hors d'oeuvres, a wide variety of wines and both a silent and live auction, presented by auctioneer Jason Deel, highlighted the evening's activities.

While the crowd sampled the fare, catered by Special Tee Cookies & Catering, bidders quickly learned "There are no friends" at a live auction, but there was plenty of fun and laughter.

Staci Wilkerson, RCF president, said it is the club's signature event and largest fundraiser for the year.

Friday, the gala netted proceeds from the 148 tickets sold, as well as from live auction sales totaling $3,425. However, tallies still are being made for the silent auction sales, event chair Teri Jo Fox said.

"We decided to make some changes to the event this year, with the name, location and atmosphere," Wilkerson said, with funds raised supporting "our club's charitable activities."

Some of RCF's projects include Free Flu Shot Saturday, Salvation Army bell ringing, Boys and Girls Club Angel Tree, spring cleanups and support of its local schools.

"Through Rotary International, we support several international projects, such as the global eradication of polio, providing clean drinking water and improving health services," Wilkerson said.

"The wine-tasting event is not possible without our two major sponsors," she said in reference to Farragut Rotarians Sam Taylor, co-owner of Dixie Lee Wines & Liquors, and Sam Mishu, owner of M & M Development Company, both located in Farragut.

Taylor and his family picked up the costs for the event's wines while Mishu picked up the costs for the food.

"This is their 19th year sponsoring the wine-tasting event for us," Wilkerson said just before presenting plaques of appreciation. "We're very fortunate to have the two Sams in our club with their support. They're outstanding Rotarians who live by Rotary's motto, 'Service Above Self.'"

"Nineteen years ago, we sat around a table, trying to think how to raise some money," Taylor recalled. "Suddenly, it dawned on me, 'maybe we could have a cheese-and-wine party, and that's how it started.'"

Wilkerson also acknowledged the club's longest-standing member, Terry Kerbs, who donated money for the tent rental, along with Fox and the event committee who "have done an outstanding job of organizing this event."

Fox also praised Megan Belcher, Fox's co-chair, and Julie Blaylock, who helped with the auctions.

"It takes a lot of time and energy to be here and to do this (event), and it takes a lot of people — the community, the club, our friends, our families all have to deal with us," Fox said.