Moving up to Division II-AA, Catholic reaches finals before loss to Briarcrest in four games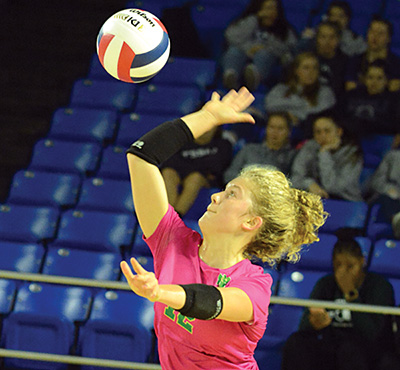 Junior Cassie Kuerschen, Catholic standout junior libero, serves during the Lady Irish Division II--AA state title match versus Briarcrest.

MURFREESBORO — For the third consecutive year, Knoxville Catholic High School has finished second at the Tennessee high school volleyball championships.

The Lady Irish, who have made six consecutive trips to the Midstate to play on volleyball's grand stage, dropped the Division II-AA championship match to Briarcrest Christian School 25-18, 17-25, 25-23, 25-23 Thursday, Oct. 24, at Middle Tennessee State University's Murphy Center.

This year, KCHS (27-8) made its first trip to the state tournament as a Division II-AA team, with the Lady Irish program having made five previous trips in Division 1-AA. Catholic was a runner-up four times and won the state title in 2016.

The Lady Irish fell behind the defending state champion Lady Saints early. Briarcrest (39-4) built a 16-6 lead in the opening set and Catholic, despite pulling to within 21-17 on a big service run by Sasha Cain, never really recovered.

But the Lady Irish bounced back in the second set to open leads of 14-5, 17-6 and 20-8.

Junior libero and team captain Cassie Kuerschen, who has played on three consecutive runner-up teams, served up eight consecutive points to make the score 14-5. She had an ace to make it 12-5 and senior Carlee Hart had two clutch kills. From there, the Lady Irish never looked back.

Catholic led 9-5 in the third set before the Lady Saints battled back. The set went down to the wire, and Catholic looked to be poised to win when two consecutive aces by Kuerschen gave KCHS a 23-22 lead.

But the Lady Saints scored three straight points and pulled ahead in the match 2-1.

Catholic opened a 5-4 lead in the fourth set before the much bigger Briarcrest squad stormed back to open a 17-10 advantage.

Catholic would rally to tie the game 21-21 before Briarcrest secured its second straight title.

"I don't think some people had their best games, but I thought we played a good match," said Kuerschen, who had 31 digs and four aces. "(Briarcrest) definitely had the size. They have the size that you just don't see in Knoxville."

Grainne McGrath finished with 11 kills and five blocks for Catholic. Isabella Amet added 10 kills and seven digs. Hart had 10 kills and five blocks. Catelyn Krings finished with 16 digs while Devyn Dunn had 33 assists and five digs.

Briarcrest's Loren Robinson, MVP, had 41 assists and 19 digs.