After earlier round win vs. St. George's, Lady Lions lose title match in four games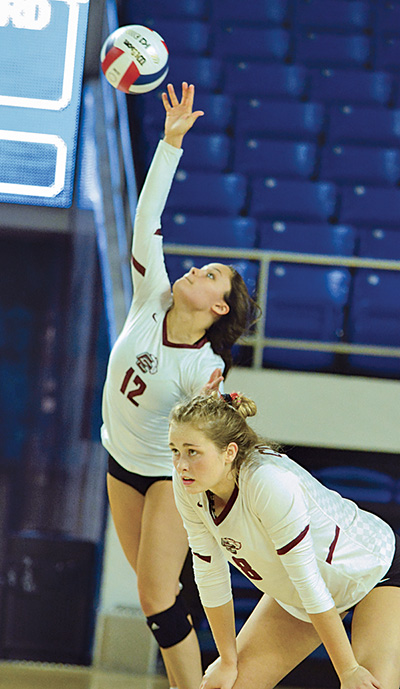 Going high for this serve is sophomore Emma Meyer, Concord Christian volleyball team standout setter, during the Lady Lions Division II-AAA state championship match versus St. George's Independent School of Collierville Thursday morning, Oct. 24, in Middle Tennessee State University's Murphy Center in Murfreesboro. Preparing for this point is sophomore Annabelle Sulish, star outside hitter. Despite winning the first game, CCS fell to the Lady Gryphons in four games to collect the program's second consecutive Division II-A state runner-up trophy.

MURFREESBORO — For the second consecutive year, the Concord Christian School volleyball team was one of the final two teams standing in the Division II-A State Tournament. And for the second straight season, the Lady Lions came just short of winning the ultimate — although things looked promising early.

"We thought we could win," CCS head coach Carmen Hochevar said after her team came up on the short end of a 25-27, 29-27, 25-20, 25-20 decision in the state title match against St. George's Thursday, Oct. 24 at Middle Tennessee State University's Murphy Center. "After that first set, I thought we had them set up to win.

"But we have a young team with most of our key players being sophomores and juniors. I'm extremely proud of them, and we will be back."

Concord (30-10) lost last year's championship match to Division II-A East Region District 1 rival Webb School of Knoxville. But the Lady Spartans struggled through a rebuilding campaign in 2019. They reached the State XII round of the playoffs but missed an eighth consecutive trip to the Midstate after winning six consecutive state titles.

The Lady Lions certainly had plenty to be proud about this season as they won both the district's regular-season title and tournament championship.

They were the East Region runners-up, falling to another district foe, The King's Academy, in the region final at Webb. TKA also made it to Murfreesboro, but Seymour's Lady Lions lost their first two matches at state and were eliminated at Siegel High School on the tournament's first day.

CCS swept Franklin Road Academy in the State VIII to make it to Murfreesboro.

The Lady Lions opened by winning a five-set thriller against the Lady Gryphons, who would come back through the losers' bracket to capture the state championship last week.

In the second round, Concord Christian breezed past Goodpasture Christian School, setting the stage for a rematch with the Lady Gryphons, who hail from Collierville.

Concord got off to a blazing start and opened a 9-3 lead in the first set after Mikayla Profeta served up an ace, forcing St. George's to call a time out.

After the break, the Lady Gryphons clawed their way back into the match and pulled to with 14-11.

Concord would eventually open a 17-14 advantage before the Lady Gryphons knotted things 18-18, 22-22 and 25-25. The Lady Lions would never trail in the set and closed it out on a service point by Profeta, who finished with 11 kills, three aces, four digs and three blocks.

The second set was another tight affair, with Concord opening an early 7-4 lead before St. George's (30-10) answered and opened an 11-8 advantage. The Lady Lions led 19-16, 23-21, 24-22 and 26-25 before St. George's scored four of the final five points of the set to even the match.

"In the second game, we just made too many errors and missed too many serves," Hochevar said.

The Lady Lions had a 15-13 lead in the third set before St. George's stormed back to capture the set an take a 2-1 lead in the match.

Concord opened a 5-4 lead in the fourth set before the Lady Gryphons took control and claimed the title.

CCS sophomore outside hitter Annabelle Sulish said the loss was a disappointing end to another successful season for the Lady Lions.

"We had a great season," said Sulish, who finished the championship match 29 kills, seven digs and an ace. "We definitely grew as a team and we grew as a family.

"It was a privilege to play for this team."

Concord sophomore setter Emma Meyer finished the match with 44 assists and 10 digs.

St. George's Annika Thompson was the Most Valuable Player of the match after recording nine kills and 12 digs.