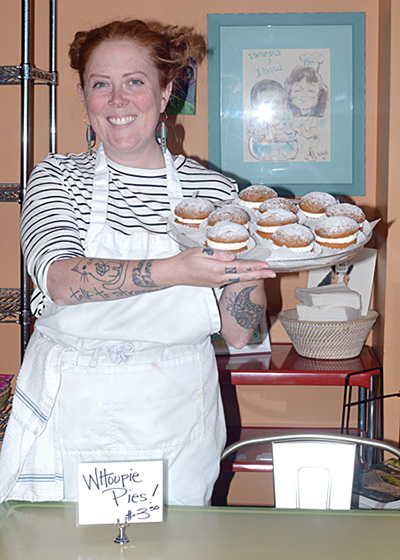 VG's Bakery manager Katie Gwin shows the pumpkin whoopee pies that are available for fall at the bakery, 11552 Kingston Pike, Farragut. The store, celebrating its 20th anniversary, will feature menu items from the past through Saturday, Nov. 2.

Katie Gwin grew up the bakery her parents, David and Vanessa Gwin, opened 20 years ago.

Now, she follows in their footsteps as manager of VG's Bakery, which is celebrating two decades in business this week.

The shop at 11552 Kingston Pike will observe its official anniversary Saturday, Nov. 2, but this week it is also offering menu items from the past.

"It's great," Katie Gwin said about the milestone. "Most small businesses don't make it that long, so it feels like success.

"Time has kind of flown by and feels forever at the same time."

She said her parents are "super-grateful to the Town of Farragut for being so open to us and keeping us in business. We are really happy to be the family bakery for this Town.

"We're the only full-line, from-scratch bakery in Knoxville," Gwin added. "We like being the only bakery in Farragut that's not attached to a grocery store."

To commemorate the occasion, Gwin said the store is doing a "throwback" to its original line of baked goods.

"We've got the menu on our website, as well, for the event, but (this week) we will be having a lot of our menu items we don't do anymore, that were popular in the beginning when we opened, or through the years," she said.

Customers will find lots of "old-school" classics that people have been requesting, such as Nutter Butter Sammich Cookie, one of the most requested items; Rugelach, one of the items that got the business started; Chocolate Chunk Walnut Cookies; Italian Cream Cake; and "Squishy" White Bread, among others.

Gwin, who started working at the store in 2009, was 13 when her parents opened VG's.

In 1999, the Farragut shopping center presented an opportunity to open a shop, she said.

"It was just a little, tiny business back then, and now we've grown a lot," Gwin said. "(My parents) were really the only two people working here in the beginning. Now we have a staff of about 15."

While the Gwins have not been able to expand, they have reconstructed the space.

"We've redesigned the interior a little bit," Gwin added. "Of course, we offer a lot more now and we're open longer hours.

"We were always full line, but with less varieties of each type of thing — fewer kinds of cakes, fewer kinds of cookies, fewer breakfast items."

Now, she said, "We have a ton. You can see our menu on our website.

"Things change seasonally, of course, but we always have tons of different types of cookies, and we have scones, muffins, sweet rolls, cakes, pies, breads," Gwin added.

Also, "We do a lot more farmers' markets," she said. "We participate in many (markets) throughout the city."

The shop is open from 10 a.m. to 4 p.m., Monday; 10 a.m. to 6 p.m., Tuesday through Friday; 8 a.m. to 2 p.m., Saturday; and closed Sunday.

"We also keep a calendar on our website of everywhere we are and the hours we are there for the week," Gwin said.

For more information, visit vgsbakery.com, its Facebook page or Instagram, or call 865-671-8077.