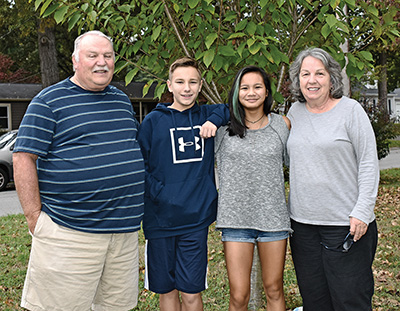 Sam Touton, left, and Elaine Touton and their grandchildren, Kincaid and Livy Eaker, are pictured in the front yard of their Farragut home in front of a tree planted in memory of the Touton's daughter, and the children's mother, Audra Eaker, who died tragically three years ago.

Kincaid Eaker has always known he would need a new kidney.

Born with Polycystic Kidney Disease, the now 13-year-old Farragut Middle School seventh-grader long depended on a promised donation from his mother, Audra, who was a perfect match.

Tragically, Audra's life was taken by her husband of 22 years almost three years ago, taking away that option.

While Kincaid and his older sister, Olivia "Livy," are now happily living with and being raised by their grandparents, Sam and Elaine Touton in Farragut, the reality of Kincaid's disease is constant, especially now that his kidney function has diminished to 14 percent, and a donor must be found in the very near future.

He is finally on the waiting list for a kidney, and matches are being sought through Emory University Hospital, near to

Children's Healthcare of Atlanta at Egleston, where Kincaid has been monitored and treated since infancy.

In the meantime, several of Audra's long-time friends in Georgia, where the family formerly resided, stepped in to help offset costs that will accompany the eventual transplant and started a Go Fund Me account in his name.

In less than a month, more than $11,000, was raised, and several accompanying fundraisers are planned, both locally and in Georgia.

"They told me a year ago to get started on raising the money, but I just couldn't do it," said Elaine, who, along with her husband are both retired, enabling them to devote themselves completely to their grandchildren, who have both embraced swimming among their extracurricular activities. "So when my daughter's best friend, Brandy Love, told me she felt led to start a Go Fund Me account, I was so grateful."

"Even though Kincaid is on his grandparents' insurance, the surgery alone out of pocket is pretty steep," explained Love on the Go Fund Me page.

"I have to find help for this family," Love added while going on to not only ask for donations, but also encourages those reading the post to be tested as possible donors.

Kincaid is quite a trooper as he and his family wait for that call. Even though he is frequently tired, and more so recently, being active has been just what the doctor ordered — literally.

"They told us it was very important that he exercise as much as he can," Elaine said. "He lets me know what he does and does not feel up to doing."

It was Livy, a sophomore at Farragut High School, who first began swimming, with Kincaid soon following suit not long after they moved to Farragut. Currently, Livy and Kincaid both swim for the Village Green Swim Team in the summer, and for the high school and middle school teams, respectively.

Corey Olson, the FMS swim team coach and an assistant coach for the Village Green team, has helped plan a Turkey Creek Blaze Pizza fundraiser for Kincaid from 3 to 9 p.m., Saturday, Nov. 16, and has organized a Swimathon for Dec. 12 at the University of Tennessee.

"I have worked all my life and never asked anyone for anything, but people just amaze you with their love and compassion and how much they want to help," Elaine said. "I am so grateful for the outpouring of love and support.

"I am not worried about the cost," she added. "I know it is going to be taken care of."

Here are other ways to help:

• Support Cedar Bluff Baptist Church's upcoming fundraiser beginning at 4 p.m., Saturday, Nov. 9. Dinner will be served from 4 to 5:45 p.m. A benefit singing begins at 6 p.m. Church is located at 9215 Floyd Lane.

• Swimathon swimmers can be sponsored based on laps completed or flat donations. Contact FMS Swim coach Corey Olson at 262-745-5490 for more information;

• Visit the GoFundMe account at https://www.gofundme.com/f/kincaid-needs-a-kidney;

• Visit www.emory.donors/scree.org if interested in possibly becoming a donor.