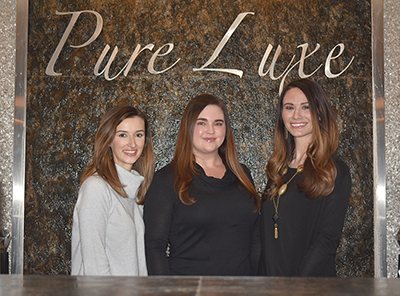 Pure Luxe Salon, Spa and Medspa celebrates its 10th anniversary with its "10th Annual Christmas Event" from 3 to 8 p.m., Monday, Dec. 2. Among those who will welcome guests are, from left, Kate Sexton, guest services manager; Laura Elijah, executive director; and Whitney Cantrell, guest services coordinator.

Pure Luxe Salon, Spa and Medspa in Hardin Valley is commemorating a decade in business by offering its customers the chance to win $20,000 in giveaways.

It's "10th Annual Christmas Event" is from 3 to 8 p.m., Monday, Dec. 2. Co-owner Tim Varney, who bought the business with Blake Henry last year, said "200 to 300 customers have lined up" to take advantage of giveaways in previous years.

Clients will receive "scratch-off" cards, and be given double the revealed discount — from a minimum of 10 percent, up to 100 percent on prepaid services and products.

Additionally, special discounts are being offered on Botox and Dysport, Dermal fillers, CoolSculpting, laser skin rejuvenations and laser hair reductions, and guests also will have the opportunity to enter to win a $10,000 "Best of Pure Luxe Anniversary Package" and a Louis Vuitton luxury handbag.

The full-service salon offers nail and hair services along with massages, saunas, facials and an array of Medspa procedures such as injections, fillers, dermaplaning and laser treatments — all performed by registered nurses.

"We have it all," said executive director Laura Elijah, who also noted the company recently opened a second Medspa location next door to its sister company, Spa Visage in Downtown West.

"Our goal is for you to come here, relax and enjoy yourself," Varney said. "This is as luxurious as any place you will find. We have people who come from Atlanta, and many others from a two- or three-hour-radius, because they have found that we are one of the nicest and best places anywhere."

The company also is dedicated to cutting edge state-of-the art technology, such as its new Cool Tone body sculpting machine.

"It is the only one in Knoxville," Varney said. "It is helpful for muscle weakness, body sculpting and body toning ... and 20 minutes on it is equal to 20,000 sit-ups."

Pure Luxe is located at 10780 Hardin Valley Road. For more information, call 865-474-7873, or visit Pure Luxe on Facebook or at www.pureluxespa.com.