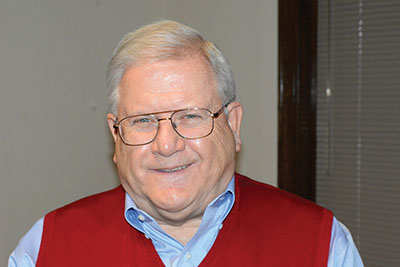 Ed St. Clair

Approaching his 30th anniversary of serving the Town on Farragut Municipal Planning Commission, Ed St. Clair's value to the Town first came from an aesthetics perspective.

Going back to 1989, "My entry point into working with Farragut was: I worked in Oak Ridge in the Project Management Engineering Organization over there for Union Carbide. My boss was Bob Hill (longtime FMPC chair who passed away in 2018)," said St. Clair, appointed to FMPC by then Mayor Bob Leonard in 1990.

"They were looking for some help in a process to get proposals and select an architect and engineer for (construction of) the Town Hall," he added. "I had experience doing that.

"So Bob asked me if I would like to work with the Town staff. … So I participated with them."

Telling Mr. Hill he would be interested in joining FMPC, "I got a call from Mayor Leonard; he asked me if I'd like to serve on it, and I said, 'I sure would,'" St. Clair said.
Foundations: 40 Years of Farragut
A native of Blount County and a University of Tennessee, Knoxville graduate, Ed St. Clair "came back to East Tennessee" in 1975 after about five years in Louisiana working for Shell Oil Company. "I worked for Union Carbide," he said. Having earned a Bachelor of Science degree in mechanical engineering at UT, "I was in what was called the Central Engineering Organization that had locations at each of the three major sites in Oak Ridge: ORNL, what used to be called K-25 (now East Tennessee Technology Park) and the Y-12 plant," he said. "I was working in Project Management, and then in Engineering Management. "I progressed and moved up to Y-12," St. Clair added. "I was Engineering Site manager at Y-12. I progressed up to be the Director of Engineering for Lockheed Martin." St. Clair now is a "consultant" with Professional Project Services who "managed a contract we had with the Department of Energy for technical … expertise and support to the Nuclear Energy Program at Oak Ridge and DOE headquarters." Approaching 30 years on FMPC, "I still enjoy it," St. Clair said. "… I've continued to be asked to serve, which is gratifying. "Secondly, there always seems to be something that's very current that maybe, having brought a different perspective over time on similar situations …, that I can lend something positive to the discussion," he added. With nine members — seven appointees, the mayor and one other member of the Board of Mayor and Aldermen —FMPC currently meets the third Thursday of each month in Town Hall. St. Clair and wife, Darlene St. Clair, a retired Knox County Schools teacher (Ball Camp Elementary), have two children and two grandchildren. This weeks Foundations: 40 Years of Farragut podcast is presented by .
Background battles

A resident of Concord Hills since 1978, St. Clair recalled plans to "build a Breadbox, one of those convenience stores … there was a corner lot right at the entrance to our subdivision right across from the historic cemetery" before the subdivision was annexed into Farragut.

"We were adamantly against that," he added, having to plead their case to Knox County officials. "… Remember, there wasn't a (South) Campbell Station (Road) extension then, so all the traffic was coming up Concord Road."

Moreover, "in one of the last acts of the three-man (Knox County) Commission before they expanded … they rezoned the property to put commercial on it," St. Clair said.

Even after incorporation, "We weren't part of the original Farragut," he said. "We actually petitioned and … got annexed by Farragut in the early '80s."

As opposed to being under the thumb of Knox County government, "We all wanted to be part of something smaller, like Farragut, where you had a voice," St. Clair said.

Eager to serve

Building a hunger to serve based on these experiences, "Here was a chance for me to be involved and contribute," St. Clair said about his motivation to join FMPC. "And I've always been interested in planning activities and seeing things come to fruition, so that was a natural opportunity to become involved in the Town and also be involved in the vision of the Town."

Before incorporation, "Back in those days (land use) was really developer-driven, that was my impression," St. Clair said, adding FMPC helps "form a framework to have some controlled growth where you can have the right kind of residential plans, the right kind of commercial, office (plans).

"… And also, as times change, keeping that refreshed relative to where the market's going?" he added. "Do people want large lots, large houses, large maintenance, or do they want smaller houses?"

For example, "The millennials are a different kind of market now," St. Clair said. "So having to stay in tune to the desirability of the community."

Citizens' voices

"We've always encouraged citizen participation," St. Clair said about input at FMPC meetings. "It's fundamental to me because that's why I wanted to be part of Farragut."

Even when citizens would confront FMPC "taking issue with something we were trying to do, they would learn from it, we would learn from it," he said.

Specifically, St. Clair recalled citizens of the Belleaire subdivision sounding off more than 10 years ago about their concerns on "expansion and rezoning activities" as First Baptist Concord sought to buy various subdivision homes planning to expand eastward.

"It's one of the bigger issues we've dealt with," he said. "It was emotional a little bit, even for our chairman (Mr. Hill) because he lived in Belleaire.

"There were several meetings, a lot of participation," St. Clair added. "Sometimes emotional participation. As vice chairman I got more involved in that because of the chairman's personal interest."

In the end, FBC's eastward expansion was limited — plus the church paid for a new Belleaire Drive.

"The final result, I thought, turned out (to be) a win-win," he said. "… I think it helped the (ascetic) character of the community."

When the dust settled, "Maybe there was negative feedback from (Belleaire) residents, but I haven't heard any," St. Clair said.

However, "I think they had legitimate fears," he added.

False information

One of St. Clair's biggest frustrations, he said, is seeing social media inflame false information about Town actions.

"They want to blame something," he said. "Initially, it was, 'we drove Walmart out of Town,'" he said. "They had a different business vision.

"A lot of people use the excuse of why their business didn't go is because the Town did something," St. Clair added. "Well, no, you didn't have the right location or in what you're trying to do you didn't market it correctly — or the product wasn't worth it compared to others. The Town was a convenient thing to blame."

Trails, topography

One thing the Town has tried to avoid, St. Clair said, is a "massive reorientation of the topography."

Whereas walking trails "have evolved to where its' seen now as an amenity," but "when it first came up" years ago, people complained, he said. "'I don't want anything near my property where somebody could use that as a pathway to break into my house.'"