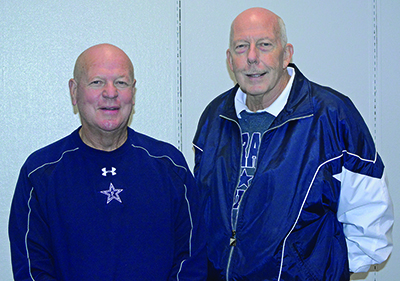 It was often heard years ago from various Farragut elected officials, "We're not in the school business," with Knox County Schools and Knox County Board of Education overseeing Farragut's four kindergarten through 12th-grade public schools.

Though KCS and KCBE remain in that capacity, the Town became more "business friendly" to those schools in recent years, annually giving each $22,000.

Then, early last decade, came the creation of the Town's Educations Relations Committee in a still further attempt to assist Farragut public schools.

Helping teachers with supplies has been one of many pursuits.
Foundations: 40 Years of Farragut
A high school All-American basketball forward at Gatlinburg-Pittman in the late 1960s, Donald Dodgen and his 6-foot-5 frame enjoyed the "Blue Carpet" recruiting treatment in Lexington, Kentucky, from legendary UK Wildcats head coach Adolph Rupp. Saying "no" to the mighty 'Cats and their storied tradition, Dodgen, Farragut High School athletic director since the 2015-16 school year, eventually wound up at Tennessee Wesleyan University (after originally signing with Ray Mears at Tennessee). At this NCAA Division III school in Athens, Dodgen was a Small College All-American forward known best for his deadly baseline jumpers. Strongly influenced by his mentor at TWU, highly respected men's basketball head coach Dwain Farmer, Dodgen became a coach/teacher. "I have taught biology, physical science, I've taught general science and I also have taught math before," he said. "I've taught driver's education. "I have a master's degree from the University of Tennessee in safety education, which would be building safety, school safety, grounds safety," added Dodgen, also an administrative assistant at FHS. With successful head coaching stints at his college and high school alma maters plus McMinn County High School (boys), Dodgen came to Farragut as varsity boys head coach beginning with the 1996-97 school year. He retired from coaching following the 2009-10 season, compiling 660 wins in 38 seasons of coaching at the college and high school levels. Dominant as a linebacker and center for the Fulton Falcons in the late 1960s into 1970, Eddie Courtney (Fulton Class of 1971) became a star linebacker at Mars Hill University near Asheville, North Carolina. A graduate assistant under Johnny Majors for the Tennessee Volunteers in the late 1970s, Courtney was asked by then FHS head coach Ken Sparks to become a position coach for the Admirals. Later a defensive coordinator who spent all but two seasons at Farragut High School between in 1978 and 1995, Courtney assumed the FHS head coaching position in 1996. "I've taught wellness, physical education, science, health, psychology," he said. While producing several district and region championships during his first 24 years as Admirals skipper, he's successfully battled Hodgkin's disease after overcoming numerous physical trials. Courtney's head coaching highlight came in 2016, when his Admirals rode a 9-1 record into the Division I, Class 5A playoffs. His team then pulled off something almost unheard of on any level, NFL and Division I college football included. Farragut erased a pair of 28-point playoff deficits, the last of which being a 35-7 hole late in the first half in the state title game against then defending state champ Independence. Courtney led his team on a 38-0 run, winning the state crown 45-35 and finishing the season 14-1. Listen to their Interview on the Foundations Podcast at www.farragutpress.com This weeks Foundations: 40 Years of Farragut podcast is presented by .
By decade's end, high school juniors and seniors eager to gain more hands-on municipal government experience, required to be either FHS students or Town residents, have been selected to serve as non-voting representatives with Farragut Municipal Planning Commission or one of six other Town committees/boards.

Good relationship

"Since I've been here (August 1996), the relationship between Farragut High School and Town of Farragut has been great," said Donald Dodgen, FHS athletic director in his 24th year at the school. Before becoming AD, he was a quite successful Admirals boys varsity basketball head coach from 1996-97 through 2009-10.

"No matter what we've asked for, if they can do it they'll help us," he added.

For example, with the athletics teams, "Mr. Bud McKelvey, through their (Public Works) Department, has always helped us with their equipment when we need things for our fields, and offer us their trucks to transport sand or anything else we're doing on clean-up days to haul stuff out of here," said Eddie Courtney, FHS varsity football head coach since 1996 who has coached and taught at the school every year, except for two, since 1978.

Moreover, "Knox County Schools doesn't have that type of equipment, aerators and things like that," he added. "Their bucket trucks we've used to put things up, post things on the (football stadium) pressbox and other things around. They've always been good about offering their equipment to help us.

"Whenever they financially could, we've requested certain things where they've been able to step up and help us."

"I've gotten to know Bud, and Bud and I have been great friends," Dodgen said. "I've gotten to know the Mayor (Ron Williams) very well."

Whenever an FHS sports team has special success, which has included winning Tennessee Secondary School Athletic Association state championships, Farragut Board of Mayor and Aldermen "has had Proclamation Days" to honor those teams, Courtney said.

As a result, "In their Fourth of July Parade we always try to put in our football team and cheerleaders and band, and people like that, to let them know how much we appreciate what they do," Courtney said.

"They use our facility to stage the parade. They're so easy to work with," Dodgen said.

In fact, "I've never been turned down when I've called, either Bud or the mayor or David (Smoak, Town administrator), to do some things at Farragut High School," he added. "If they can, they will do it. … Both athletically and academically."

Dodgen shared enthusiasm about one area of Town growth.

"I'm really excited about the new facilities that are going to be built over at McFee (Park)," he said. "They're putting in tennis courts over there."

With FHS having no on-campus tennis courts, "the mayor and I have met a couple of times about that, to see how many courts they're putting in, to see the accessibility for our tennis team at Farragut High School," Dodgen added.

Recalling incorporation drive

With FHS personnel being at a distance in one way, but up close in another, concerning their observations of the push to create a Town of Farragut in late 1979, "There was a lot of talk about that," Courtney said about FHS administrators and teachers keeping up with the stories. "A lot of people were skeptical about that ever happening. … Could they financially make this go?"

On top of pointing out the Town's rapid growth, "You drive into Farragut and it's clean, and it sells (itself with) a very positive image," Courtney said.

"After all these years, 40 years … they've done it in the right way."

Sparse retail, 'Farmers'

Recalling what would become Farragut when he first became a teacher and coach at FHS in August 1978, "On Kingston Pike you had Russell's Market, the Lone Star (Texaco) service station, you had Ott's Barbecue — but not many things down here," Courtney said.

With Admirals sports team still stuck with the nickname "Farragut Farmers" in the late 1970s, Courtney recalled a certain football trip: "We went to Bearden and they had a lot of hay thrown up in the stands, and I figured out what it was about," he said.