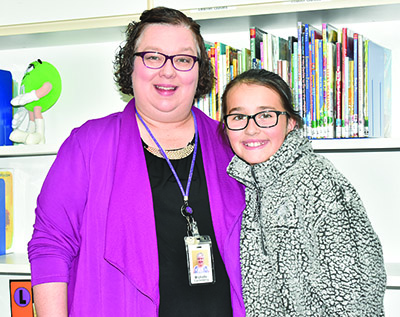 Concord Christian School librarian Michelle Castleberry, nominated CCS fifth-grader Gracie Scott to serve as the school's Read City USA Ambassador.

Two Farragut fifth-graders are among the 68 Reading Ambassadors helping Knox County Mayor Glenn Jacobs's Read City USA project reach 500,000 hours of reading time in 2020.

Gracie Scotto was selected to represent Concord Christian School and Isha Bal was selected to represent Farragut Intermediate School. Both girls are fifth-graders at their respective schools.

CCS librarian Michelle Castleberry said she knew Gracie would be the perfect student to serve this newly created role.

"The ambassador must be someone who would not only help promote (the program) and represent us well, but would also be well-respected by their peers, and, of course, be very interested in reading," Castleberry explained of the criteria.

"Based on what I know of Gracie and how much time she spends in the library, I knew she would be great."

Read City USA is a county-wide reading program begun by Knox County Mayor Glenn Jacobs, and is a collaborative initiative with Knox County Government, Knox County Public Library System, Knox County Schools, The Great Schools Partnership and other community organizations to help all children, regardless of their socio-economic background, learn to read early and well, according to the Mayor's office.

In 2019, the goal was to read 250,000 hours, which was achieved in October. This year, the goal is to encourage students to "read around the world" by collectively reading for 500,000 hours, and his office extended the ambassador nomination options to private and public schools throughout the county.

"These students will work with their library staff and school administrators to help excite their peers about, not only reading, but logging their time," Jacobs said. "They will be a driving force ensuring we reach our 500,000 hour goal in 2020."

Castleberry said she would meet with Gracie to develop CCS challenges to encourage students to read and participate in the program, although adding she's not sure they need a lot of encouragement.

"I have never been at a school where the students read as much as they do here," said Castleberry, who has been at CCS for two years.

Additionally, Jacobs has challenged several local media personalities to a book drive among many county schools, with the winner facing off against Jacobs in a hot wings eating contest at Wild Wings Café in Farragut on Feb. 10. Donated books are being accepted through Friday, Feb. 7, at Farragut Intermediate and Middle schools, Northshore Elementary School, Episcopal School of Knoxville, Concord Christian School, Hardin Valley Elementary School, Christian Academy of Knoxville and Webb School of Knoxville.