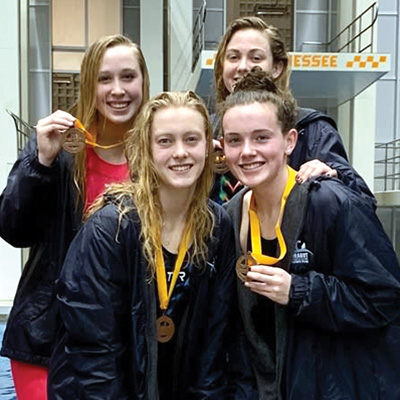 Abigail King, front left, joined FHS swimming 200-yard medley relay teammates Sarah Walker, Grace LaCharite and Mara Spadafora after earning state fourth-place medals.

KNOXVILLE — Several Farragut area high school swimmers had a big weekend at the Tennessee State Championships.

As a team, Hardin Valley Academy's combined boys and girls teams finished fourth (boys fifth, girls ninth) in the familiar waters of Allan Jones Intercollegiate Aquatic Center on the UT-Knoxville campus Friday and Saturday, Feb. 7-8.

Among the 26-member Farragut High School Aqua Admirals, the FHS girls team finished eighth (16th combined with boys).

The Hawks were led by Harper Houk, state champ in the 200-yard individual medley (1:50.76) who came in fourth in the 100-breaststroke. Overall, he medaled in four events.

HVA's Zack Telep was third in the 100-butterfly, touching at the finish just ahead of Bearden's Colby Maupin, with both posting 50.62 second times.

Maupin finished third in the 100-backstroke (50.95 seconds) and was a part of the Bulldogs' 200-freestyle relay team that captured fourth, teaming with Breck Richards, Ryan Barclay and Josh Leslie (1:20. 25). The Aqua Dawgs boys finished 12th.

Abigail King of Farragut won three medals over the weekend. She placed fourth in the women's 100-backstroke with a time of 55.62 seconds. She also took fifth place in the 100-butterfly.

Relay-wise, King was part of the Lady Admirals' 200-medley foursome finishing fourth, teaming with Sarah Walker, Grace LaCharite and Mara Spadafora (1:48.43).

The Lady Hawks picked up a pair of medals in the relays.

The team of Abbey Aycock, Aubrey Hall, Cass Allit and Rachel Aycock took fifth in the 200-freestyle relay (1:39.98).

Rachel Aycock combined with Kylie Cutcher, Kate Salsbury and Hall to finish seventh in the 400-freestyle relay (2:35.60).

As for HVA men's relays, Houk and Telep teamed with Leonard Staab and Ridge McCay to take sixth in the 200-medley relay. In the 400-yard freestyle relay, Houk, Telep and McCay joined Sam Warnock to finish eighth.