Resignation ends 'excellent decade' coaching FHS volleyball to 3 state runner-ups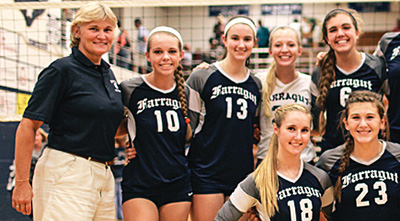 Davidson with members of her 2014 Class AAA state runner-up Lady Ads team.

Successfully carrying on a stellar high school volleyball tradition started by former head coach David Moore, Susan Davidson began as Farragut Lady Admirals head coach in the fall of 2010.

"David Moore has been an excellent mentor to me, and a great friend," Davidson said about a fellow FHS Sports Hall of Famer a few days after she decided to resign, looking back on her 10 seasons of averaging almost 45 wins. "He left a super foundation.

"It was an excellent decade," Davidson added about her coaching career at FHS, earning TSSAA Coach of the Year honors while a six-time District 4-AAA Coach of the Year choice.

Davidson's FHS record was 448-100, highlighted by Class AAA state runner-up finishes three years in a row (2014-2016) and five state tourney appearances.

She led the Lady Admirals to eight substate showdowns, five Region 2-AAA crowns, seven District 4-AAA regular season championships and five 4-AAA Tournament titles.

Seventeen of her players have gone on to play college volleyball, while six former Lady Admirals earned Prep-Extra Player of the Year honors.

Without being specific about why she resigned, "I loved the kids, loved the program," she said. "I'll continue coaching at some point."

Also a head coach in North Carolina and South Carolina, at Farragut Middle School and Webb School of Knoxville Middle School — adding up to 36 years of leading a team — Davidson's overall career record is 1,564-142.

"I would say that coach Davidson was beyond a volleyball coach. She cared about us as people and cared about the individuals that we were going to become," said Reagan Grooms, a standout outside hitter (Class of 2015) who went on to become an NCAA Division II All-American outside hitter at Armstrong State University, Savannah, Georgia.

"She left an impact on my playing career as well as my personal journey," added Grooms, an assistant coach at Shorter University (NCAA Division II in Rome, Georgia) who is seeking a master's degree there.

"She was super-sweet. She got me in contact with the college coach (at Tennessee Wesleyan University). ... She was very influential," said Tia Madden, a standout setter (Class of 2016) who was a three-year starting setter at TWU, where she currently serves as assistant coach.

A Student Affairs assistant at Hardin Valley Academy who formerly worked in the Guidance department at FHS, Davidson has worked for Knox County Schools for 17 years.