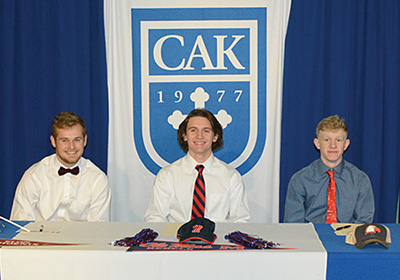 Christian Academy of Knoxville recognized three senior student/athletes who signed National Letter of Intent papers during a ceremony in the CAK library on National Signing Day Wednesday, Feb. 5. From left are 2019 All-state football kicker Zander Tonkin, ranked 50th in the nation (Elon University, North Carolina); Luke Etherton, All-state track & field 2019 in decathlon, discus and 400-meter run (Ole Miss); and Josh Whitaker, pole vault state runner-up in 2019, third in 2018 (Carson-Newman University).

KNOXVILLE — Seven Bearden High School student-athletes officially finalized their respective college plans on National Signing Day.

Three football players and four baseball players made things official at two separate signing ceremonies Wednesday, Feb. 5, at BHS.

Football players who signed in the gym in an early-morning ceremony were Gavin Campbell, Andrew Kregel and Kenneth Parker-Smith.

Baseball players signing a short time later in the BHS library were Jacob Balsley, Brandon LeJeune, Patrick Boles and Braden Caldwell.

Campbell, an offensive and defensive lineman, signed with East Tennessee State University. Kregel, also a lineman for the Bulldogs, will play his college football at Maryville College. Parker-Smith, a wide receiver and defensive back, signed with Union College in Kentucky.

Balsley will play college baseball at San Diego State University. LeJeune will take the community college route, signing with Cleveland State Community College. Boles will attend Georgetown College in Kentucky and Caldwell will

play in Maryville for the Scots.

For Campbell, who said he will major in business and finance, "The coaches there showed me a lot of love. It's a nice campus, and I just enjoyed it. It's close to home and it's a small campus, and I liked the student-to-teacher ratio."

Kregel said, "It felt like they really wanted me at Maryville. They care about me as a

person and a player. They really care about me. They care

about my future after football.

"One thing is that it's close to home. I wanted to stay close to home," he added. "The other thing is that I met the staff there and the teachers all have an open-door policy."

Parker-Smith said "the smaller school is a better deal for me. I wanted to play, but the coaches want me to get a degree. My

first goal is to get my degree. That's the most important thing.

"I'm undecided about what I wanted to do, so the coaches

told me to take a semester and take some classes and decide what I want to do," he added. "I'm looking at something in business, maybe."

Boles said Georgetown is "a Christian School and they have a pretty chapel, and I really liked that. I'm going to major in nursing and they have a really good program. "

LeJeune said, "The plan is for me to move on and play baseball after I'm done there. That's my goal.

"I like the academics at Cleveland State and I'm going to major in exercise science," he added.