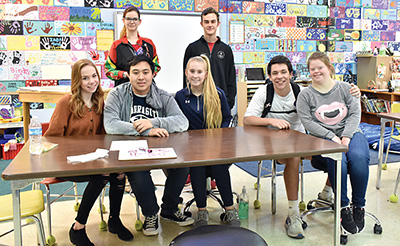 Farragut High School senior and Peer Tutor Garrett Howe, second from right, is working to help raise $5,000 for the Special Olympics. With him are several students in the Peer Tutoring program, many of whom also participate in Special Olympics: Standing are Sarah Kohn and Joseph Dicus. Seated alongside Howe, from left, are Rylee Troop, Max Pham, Bailey Myers and Megan Ramsey.

A Farragut High School senior who helped raised more than $3,000 for breast cancer awareness last fall — with an incentive to shave his head —is at it again, this time to help raise money for the Special Olympics.

Garrett Howe set a $5,000 goal for this fundraiser, and if met he and several other students, along with FHS teachers and administrators calling themselves the "Iced Out Admirals," will jump into freezing cold water Saturday, Feb. 22, at World's Fair Park in downtown Knoxville as part of the Knoxville Polar Plunge for Special Olympics.

At deadline, the group was more than halfway to its goal. Half of the money raised will go to the Special Olympics parent organization, while the rest will be used to purchase uniforms, backpacks, water bottles and other paraphernalia for participating FHS students.

Howe, an enthusiastic section leader for his grade, is equally passionate about Special Olympics, as it impacts many of the students with whom he interacts as one of about 70 FHS Peer Tutors.

"For someone who has experienced Special Olympics first-hand, I know how important the organization is because of the opportunities and memories it provides for thousands of people with and without disabilities," he said.

"For me, the opportunity to see what they are able to do is just amazing," he added. "They are able to compete and have a good time doing it, and it is a great opportunity for us, as peer tutors, too, to help them and enjoy it as well."

Peer Tutors work throughout the school year with special needs students, spending time with them in class, taking them to offsite job locations and enjoying social outings with these students.

"I know I do, and have, learned more than they have. I really have a great time with them, every day," Howe said of his fellow FHS students.

"It is the highlight of my day, every day."



To help Iced Out Admirals reach their goal, visit www.classy.org/team/278189 or visit polarplungetn.com/knoxville/icedoutads/donate.