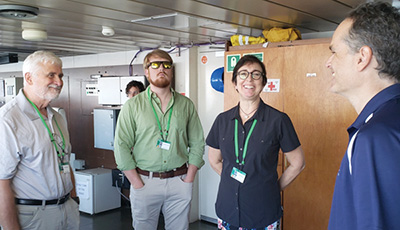 Alex Primka, second from left, and mom, Dr. Lynda Primka of Faith Lutheran Church in Farragut, were joined by shipping company owner Henrik Klinga, left, as they talked to a ship engineer on the bridge of the MercyShip.

Faith Lutheran Church members Dr. Lynda Primka and Edward Primka have supported the MercyShips ministry for about 20 years, so when Lynda had a chance in October 2019 to see first-hand what the ministry does, she jumped at the chance.

Then Lynda, a retired physician, brought the ministry to the congregation at Faith Lutheran, 225 Jamestown Blvd. in Farragut, and its members have embraced it.

"(The church is) involved in prayer ... and spreading the word to find other volunteers," she said.

Primka recalled church members were "very surprised at the conditions people were living in … but they were also really happy to hear about the work that was being done.

"Basically, at the end of the meeting, they said, 'We want to support this ministry, and let's have it as one of our ministries.'"

She now spearheads the church's efforts, seeking volunteers for the ministry. People can learn more about volunteer opportunities at MercyShips at mercyships.org or by calling Faith Lutheran Church, 865-966-9626.

Primka's mission to bring the ministry to her church followed a trip to Senegal, where she and son, Alex Primka, visited one of MercyShips' vessels the end of last October.

"If I was going to support this (ministry), I wanted see for myself if they were doing what they said," she said. "They are doing the work they say they do, and they do it with the model of Christianity.

"It was all very inspiring," Primka added, tears welling up in her eyes. "You're just giving a life-changing gift to someone.

"The people on the ship are just dedicated," she added.

Lynda met surgeons, physical therapists, nurses and African volunteer day workers, one of which "radiated happiness."

"We change the individuals one life at a time," surgeon Dr. Gary Parker said in a MercyShips online video.

The Primkas first learned about MercyShips, founded by Don Stephens more than 40 years ago, from a dentist in their church in Ohio.

"(He) would go periodically and spend two weeks on MercyShips doing dental work," Primka recalled. "He would come back from those trips and talk about the experience, about the need and about working with the people of MercyShips."

She explained the whole idea of the ministry is to bring the hospital — with the power, water, surgical supplies or dental supplies — to places in need.

All the people providing services, from surgeons to housekeeping and kitchen help, are volunteers, and the surgeries and other services are free to the patients, Primka said.

While MercyShips have gone to many places where there was a need, she said it has "settled on Africa lately because that's where some of the deepest poverty is," she said.

In Senegal, Primka said 38 percent of the 100,000 population live in absolute poverty.

However, she said 2.7 million lives are impacted by MercyShips from the 100,000 surgeries and 665,000 dental visits at 597 port visits.

MercyShips also bring in dental staff, ophthalmologists and head and neck specialists, and they train African surgeons, nurses and other support staff to correctly operate on patients.

The ministry starts planning five years before it goes into a country.

"The country has to invite them, and they look and see what the need is," Primka added. "Then, they essentially will be parked (in a port) for a school year in a country.

"They bring in people from all the outlying areas to screen them for the surgeries (MercyShips) can accomplish," she said.

Those surgeries correct cleft lip and palette, wind-swept legs and "head tumors" resulting from dental infections that spread to the jaw, as well as removing cataracts and burn contractures.

Primka noted those ailments are easily treated in developed countries, such as the United States, but under-developed countries, such as Africa, do not have the surgeons or health care infrastructure necessary for treatment.

MercyShips also bring physical therapists and make a hope center for the patients to heal, be fed and receive physical therapy following the surgeries.