Longmire to start youth-focused cooking studio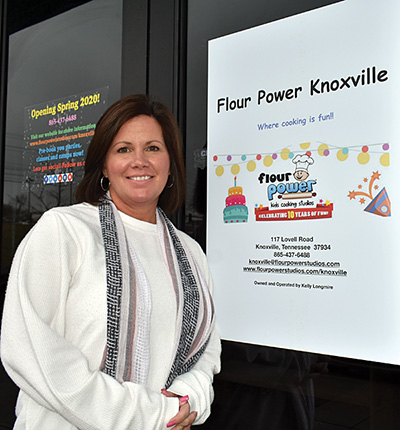 Kelly Longmire is opening Flour Power, a cooking studio for children, teens and adults, in Lovell Place strip shopping center next door to Costco, just off Lovell Road. Renovations are under way, and the new business will open in May.

Kelly Longmire is cooking up a brand-new concept for Farragut.

The Blaine entrepreneur is busy putting the finishing touches on her new business, Flour Power, a children- and teen-focused cooking studio, which will open in Lovell Place next door to Costco in May.

"I love, love, love the concept," Longmire said. "I did a lot of online research when I was thinking about starting a business, and this one is just fantastic.

"I'm so excited I just can't stand it."

The space Longmire has found — the very last undeveloped one in the Lovell Place strip mall — will accommodate two working kitchens, where weekly classes and summer camps will take place.

"I love kids, I love working with kids, I love cooking and teaching and I love having fun, and that's what Flour Power is all about," said Longmire, whose own background includes stints as a corporate executive assistant and small business owner.

Flour Power began as Lil' Chef in the Raleigh, North Carolina, home kitchen of Susan Caldwell in 2008 and has grown into a franchise located in seven states. It offers a full slate of activities, classes and camps during which pupils learn a lengthy list of skills, including how to follow recipes, proper food handling, cooking techniques, themed cooking competitions, what ingredients work together and food table etiquette. "What is great is that the classes are small and are very hands on," Longmire said.

Additionally, tuition — which starts at $149 per child for four classes — covers supplies, handouts and recipes.

While most classes and the summer camps will be held during the day, evening sessions also will be offered.

Flour Power is not just for children, however, as adult cooking classes and networking opportunities also are on the menu.

While the business itself is not ready to open, it's website is up and running and taking reservations at www.flourpowerstudios.com/Knoxville, and Longmire has also established its presence on Instagram, Facebook and Linked-In.

Longmire said she also will be hiring as many as 20 full- to part-time employees to staff the business.

For more information, call 865-437-6488.