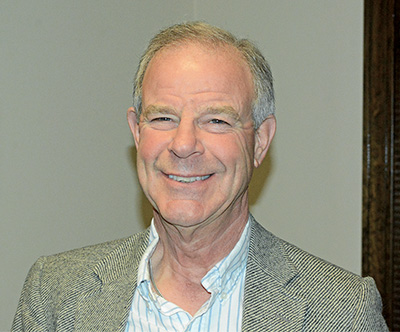 Bob Markli

Saying he had a "unique perspective," former Town of Farragut Alderman Robert "Bob" Markli recalled discovering how his beloved adopted Town, moving here in 1987, needed to become more business-, development- and school-friendly.

Owner of Markli Construction Co., Inc., which specializes in construction of custom homes, Markli was asked by then Mayor Eddy Ford to serve on the Town's Visual Services Review Board in 2003 (serving six years).

Markli said by 2005 he had "become aware there were really some problems (in Town), being on the receiving end of it myself as a builder, developers were really getting gun-shy of Farragut. We were getting a black eye in the business community.

"Being in that group, loosely associated with those people, I was hearing things that I don't think that our elected officials could see from the top down," he added.

As a result, "'Somebody needs to do something, somebody needs to say something,'" Markli recalled saying. "… 'I have kind of a unique perspective, I think I can really bring something to the Board,' and that's when I decided to run."
Foundations: 40 Years of Farragut
A Clinton High School graduate, former Town of Farragut Alderman Robert "Bob" Markli went into business at age 21. "By the time I was 23, I was contracted with the 84 Lumber company, doing their new stores," said Markli, owner of Markli Construction Co., Inc. "…We did lots of them in over 15 states." During his nationwide travels, "I began observing the differences in communities," he said. For example, "Texas was such a breath of fresh air after leaving the northeast," he said. "I had lived in Baltimore, Maryland, and we had done projects up in New Jersey; Erie, Pennsylvania, and Chicago — and these were all scary places to work because you just really felt like they were not there to help you, they were there to hinder you any way they could." With his parents from Maryland, Markli's father, scientist Frank A. Markli III, brought the family to Oak Ridge "during WWII to work on the atomic bomb project," said his son, who graduated from City College of Baltimore. "I ended up moving back there when I was 16. … I got into business in the Baltimore area," where his construction company was formed. "Then I actually took two years (December 1975 to December 1977) and served on a (Christian) mission in France … preaching the Gospel of Jesus Christ to the French people," Markli said. "It's an experience I'll never forget … and one of the best uses of two years of my time that I can imagine." Having closely studied "the Constitution (and) the writers of the Constitution," Markli said he was "23 or 24" when he "really became interested in urban design and development; political science, politics in general, political philosophy: what makes a town great. "When it came time to settle down and raise a family when I was in my early 30s — after traveling all over the country — … I chose Farragut because it was an exciting, young Town with big ideas," he added. "… I just found that intriguing and interesting and exciting." He moved here in 1987. Markli and wife, Denise Markli, have daughters ages 32, 31 and 27; a son, 30; and 13 grandchildren. This weeks Foundations: 40 Years of Farragut podcast is presented by .
He and fellow Alderman Jeffrey Elliott were first elected in 2009.

McGill era

Markli's election as a North Ward alderman coincided with the new McGill era.

A member of Farragut Community Group that founded the Town, which was incorporated in January 1980, Dr. Ralph McGill was elected as Farragut's third mayor — ending a record 29 years of BOMA service by Ford, one of the original Board members (South Ward) in 1980 who served as mayor from 1993 into 2009.

"I loved working with Ralph — Ralph was a brilliant man," Markli said. "An internationally renowned fuel scientist. … He and I didn't always see eye-to-eye on things, but we were able to disagree agreeably.

"He was a wealth of knowledge of history. He loved the Constitution and he loved this Town — of course, he was one of the founders."

While saying Dr. McGill "couldn't really see what I see," he added the new mayor "had a sense of it."

Elected together, "We really formed a bond and a coalition," Markli said of Dr. McGill, who served as mayor until resigning, just before passing away, in 2018.

Low morale

However, "By the time I was running for office, morale was at an all-time low down at Town Hall," he said. "There were lawsuits … just bad things happening, and the development community had just become scared to death to do business here."

In fact, "I had a list of developers, no less than 10, who had told me, 'We will never do another project in Farragut, it's just not worth it,'" Markli said.

Two 'great' elements

Pointing out "two things that make Farragut great," Markli first mentioned "a great business structure," which featured "very low taxes" and "this Interstate (40/75)...out here that's a river of gold running through Town."

The second was "great schools," wanting to change the "'we're not in school business'" phrase to "Farragut is in the school business," said Markli, who resigned his alderman seat in 2018 to run for mayor, losing to current Farragut Mayor Ron Williams.

From the business-development side, Markli said he "got together" with Mayor McGill "and we formed the Economic Development Committee to (do) what we needed to do to regain the confidence of the business and real estate and development community."

Among the EDC accomplishments were "getting some identity," such as "the markers you see at the Town limits that say 'Welcome to the Town of Farragut,'" he said.

"I served on that board for the first five years … we had bankers and architects and engineers and developers … had some real high-powered people," he added.

Overcoming 'silly demands'

"We had people here in Town that were trying to tell international corporations like AT&T what color their logo should be (in Farragut)," Markli said. "… We were holding projects hostage for these really silly demands.

"… Slowly, gradually we've been able to turn that around," he added. "… I think a lot of progress has been made."

Despite some strict requirements that remain, "We can

leverage that favorable tax structure that we have and say, 'hey, it'll be worth your while, come

on in and do business here,'" he said.

As a result, "I've seen people coming back, and we see businesses coming into Town," Markli said, which since 2009 have included Costco, JCPenney and Publix.

However, "I think we took a big step back with (voting in favor of) a Hotel-Motel Tax (recently)," this outspoken anti-Hotel-Motel Tax voice said.

Advocating Smoak

"If I had to count my greatest accomplishment on the Board those nine years, it was hiring David Smoak," Markli said about originally being the lone Board supporter of hiring Smoak as Town administrator. "Because the Town was determined to hire within.

"And I knew we could never regain the confidence of the business community if we were perpetuating their perception," he added. "We needed to start with a clean slate, we needed to bring somebody in (from outside), and David Smoak was such a breath of fresh air.

"I had to fight for him — it was 4-1 against him."

Markli turned the Board's opinion, eventually getting a 3-2 vote for Smoak, who began in February 2010.