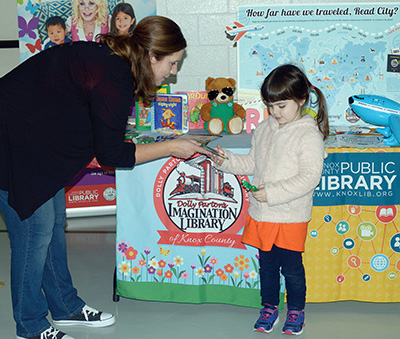 Imagination Library's Danielle Velez shows a book to Margaret Sutton, 4

St. John Neumann Catholic School again hosted the free 7th Annual West Knox Preschool and Activities Fair, organized by Knoxville-Northshore chapter of MOMS Club International, in the school, 625 St. John Court, in Farragut, Saturday, Jan. 25.

Parents talked to vendors of more than 40 preschools, extra-curricular programs and businesses, mostly in West Knox County. Children were entertained by

Kindermusik's drums, drawing pictures and shooting handkerchiefs at The Muse booth and other activities.

"I think it's a fantastic source of information and my kids are having a blast," attendee James Brower said.

"We have one big service project a year," said Kate Lee, assistant vice president of MOMS Club International's Knoxville-Northshore chapter. "We feel this is such an important event to attend, not only as an outreach but also a one-stop shop."

The group raised more than $150 to support Columbus Home.

For more photos from this event, please see Westside Faces in our print edition.