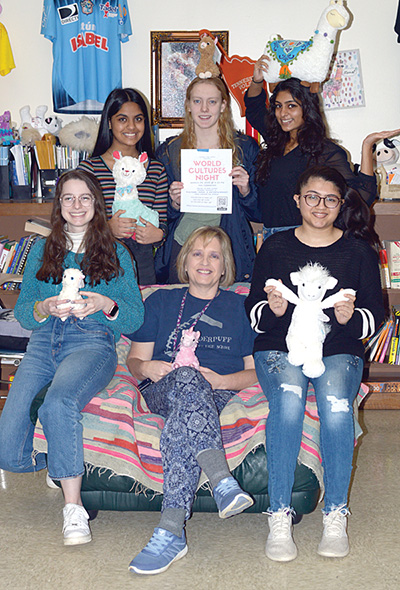 Farragut High School Spanish teacher Allison Maldonado (seated center), with FHS senior Ana Laurenti, seated left; FHS junior Safa Ahmed, seated right; and standing, from left, are sophomores Vrinda Rana and Abigail King and junior Reva Bagi. They had a fun moment in between planning for FHS's World Language Department-sponsored World Culture Night, which will take place on Thursday, March 5, in FHS Commons. The event is free and open to all Knox County students and their families.

Marking World Cultures Night at Farragut High School has been a dream of FIS Spanish teacher Allison Maldonado.

"It has been my dream for 10 years to get all the students, the community and teachers together," she said.

To kick off that dream, she and her students have organized the second FHS World Language Department-sponsored World Cultures Night, free for all Knox County Schools students and their parents, starting at 6 p.m., Thursday, March 5, in the Commons of Farragut High School, 11237 Kingston Pike.

"We have a diverse population of students who are from all over the world, either first generation or they were born in another country," Maldonado said, adding in one of her classes alone she has students from China, Pakistan and Brazil.

Since a World Cultures Night, held in 2017, was such a success, "we want to make it an annual event or a semi-annual event," she said. "The last time we had 350 people attend. We expect even bigger numbers this time."

"The (event) is all about the kids feeling proud of their cultural heritage, so we have lots of different areas for people to enjoy," she said. "We have food from all over the world."

Students and their families are preparing the dishes visitors will sample.

World Cultures Night also will feature entertainment such as an African drummer; singers; and students performing African, Chinese and Bali dances; students dressed in the traditional costumes from the countries of their heritage; cultural booths set up to provide information on and artifacts from the countries represented; and a photo booth with props from Germany, Spain and France.

Maldonado said there also would be a café serving coffee, tea and desserts from around the world.

While the event was organized by the World Language Department, she said teachers encouraged students to take the lead in organizing the event.

"We want the kids to get leadership experience," she said, so students from each of the world language honor societies guided other students in planning the event.

For more information about the event or to volunteer, call 865-966-9775 or scan the QR code on school posters.