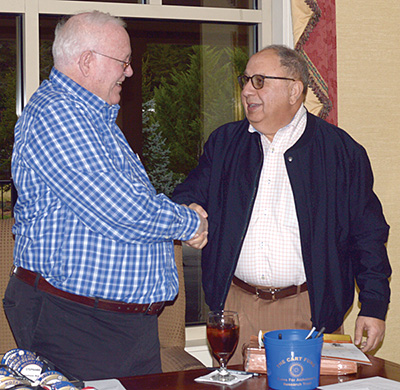 Rotary Club of Farragut sergeant-at-arms Jim Dodd, left, greets fellow Rotarian Sam Mishu as Mishu arrives for the RCF noon meeting in Fox Den Country Club Wednesday, Feb. 12. After 24 years, Dodd has decided to turn over the sergeant-at-arms duties to another Rotarian.

For the past 24 years, Rotary Club of Farragut member Jim Dodd usually has been the first person fellow Rotarians see as they walked into the weekly Wednesday meeting just before noon in Fox Den Country Club.

As sergeant-at-arms, his first job was to greet members and their guests, then he makes sure the meeting room is set up properly and each member has signed in "to pay Fox Den the proper amount," he said.

But, as the club prepares to swear in new officers, the 74-year-old said he thinks it's just time to give it up.

"I've enjoyed (the role, but) it's just that the club has gotten so big," Dodd explained.

When he started, Dodd remembered RCF had 32 members. Now it has 103.

"I think it's just time for someone else to take it over," he added.

Vicki Esponge has been nominated to fill his shoes as sergeant-at-arms, and Dodd said he thinks she is up for the job.

"She's been helping me out," he added.

Another reason Dodd gave for turning over the duties was he would like to have more time to travel.

"My niece's husband went to graduate school at Arizona State," he said. "I started going out there and just became interested in Native American art, mostly pottery and baskets."

A Tellico Village resident, Dodd joined RCF in 1992 and has been sergeant-at-arms since 1996.

He remembered when he was still working at the insurance company and was encouraged to join Rotary.

"My employer liked his managers to join Rotary, so when I moved (to Tellico Village), I joined the Rotary Club," he said.

When Dodd first joined, the club met at the Holiday Inn in Cedar Bluff.

"When they remodeled the Holiday Inn, we had to change our meeting place," he recalled. "We moved to several different places, then it moved to Fox Den.

"Joe St. Martin, who was the sergeant-at-arms at the time, decided it was too far for him to travel, so I became sergeant-at-arms," Dodd said. "I live nearby, and it was easier for me to be here once a week."

Through the years, he has seen many changes in RCF.

"The biggest changes are there are a lot more women and younger members than there used to be," he noted, adding, "I think (those changes) are both good.

"And, we do a lot more projects than we used to," Dodd said, listing Flu Shot Saturday, the stream clean-up and helping Ball Camp and Ridgedale elementary schools.

"We've given money to Remote Area Medical, (Shangri-La Therapeutic Academy of Riding) and Polio Plus, and we sponsor a youth exchange student every year," he added.