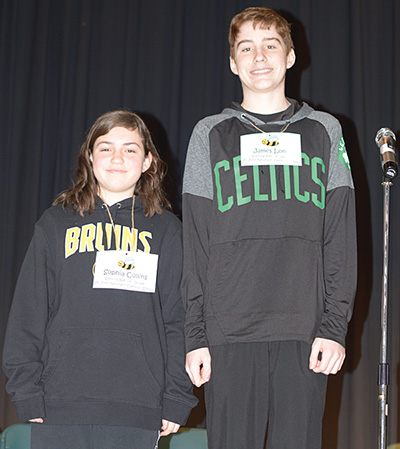 James Long, champion of St. John Neumann Catholic School spelling bee, is joined by runner-up Sophia Collins after the competition Tuesday, Jan. 28.

After going about 20 rounds, St. John Neumann Catholic School eighth-grader James Long won SJNCS's school-wide spelling bee by correctly spelling "Giza" and "gallium," at the school Tuesday, Jan. 28.

While surprised at the win, James said he "feels just great, excited."

The son of Jason and Carol Anne Long and grandson of Kay Long, he will compete in the Scripps National Appalachian Spelling Bee in March at the University of Tennessee, Knoxville.

"I'm hoping I will do well," James said. "I'm prepared for it."

Fellow eighth-grader Sophia Collins was close behind, garnering the runner-up title.

"I feel good, but it was funny to be up there (on stage) because my friend was screaming," she said. Sophia is the daughter of Paul and Lisa Collins and granddaughter of Domingos and Dolores Teixeira and Paul and Carol Collins.

This is not Sophia's first experience in a spelling bee. She has participated every year except sixth grade.

"You get used to it while you're up there," she said.

Should James not be able to compete in the regional event, Collins will participate in that spelling bee.

James and Sophia competed in the bee along with 17 other participants from the fourth through the eighth grades.