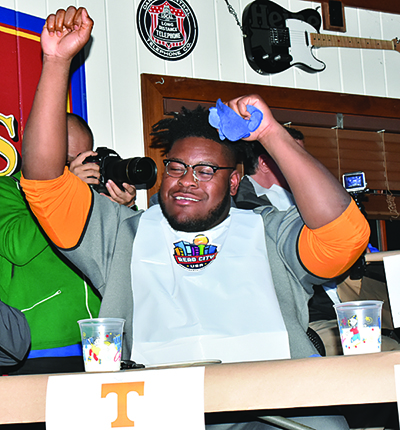 Trey Smith, University of Tennessee Footba star offensive lineman who has overcome career-threatening blot clot issues, emerged victorious against Mayor Glenn Jacobs and severall other community leaders during a hot wing-eating contest Monday, Feb. 10, in Farragut's Wild Wing Café.

Knox County Mayor Glenn Jacobs' Read City USA program got a huge boost last week from communities in Farragut and all over Knox County — along with one in Kentucky — that donated more than 11,000 children's books for redistribution.

The books — more than 6,000 of which came from Christian Appalachian Project's Project Sharing — will be donated to the Great Schools Partnership, which will, in turn, decide how best to distribute them.

Under the slogan "Reading Gives You Wings," Jacobs had challenged local media personalities and area celebrities to partner with individual Knox County schools on collecting the books from Jan. 13 to Feb. 7.

That challenge extended to Wing Wing Cafe in Farragut.

Participants included local television anchors Allan Williams of WVLT, Madison Keavey of WATE and Russell Biven of WBIR; News Talk 98.7 personalities Landon Doane and Adam Litton; Bearden High School alum and "The Voice" winner Chris Blue; and University of Tennessee Football star offensive lineman Trey Smith.

The group met Monday, Feb. 10, at Wild Wing Café in Farragut to good-naturedly claim the most books donated — the win ultimately went to News Talk 98.7 — but the real challenge followed with a hot wing-eating contest.

The group had six minutes to eat 12 hot wings, and, while smart money might hav been on Jacobs (AKA wrestling personality Kane), it was Smith who emerged victorious when the judge determined Smith's wings "were picked clean"  — more so than the Mayor's leftovers.

Smith represented six schools, and each school's Read City USA ambassadors, and since he won the contest, those ambassadors, including sixth-grader Claire Cheadle of St. Joseph School in Fountain City, have earned a writing session with Coy Bowles, who is not only a musician and songwriter with the Zac Brown Band, but also a prolific children's author.

His books have included "Amy Giggles," "Laugh Out Loud," "Will Powers: Where There's A Will There's A Way" "When You're Feeling Sick," and "Behind the Little Red Door," which has been gifted to 85,000 students by the Georgia Department of Early Care and Learning.

"The end result, we hope, will be a book authored by these six students with Coy and the Mayor as contributors," said Abbey Harris, deputy communications director for Jacobs.

The writing session will take place from 11 a.m. to 2 p.m., Thursday, March 5, when Bowles will be in Knoxville as his band will be performing.

Claire, who attended the contest with her mother, Patricia, was "thrilled" Smith won the contest.

"I wanted to be here for Adam Litton," she said, although he didn't participate in the wing-eating contest. "I was excited to be here, to see how well our media person did."

An avid reader, Claire had personally donated 10 books to the drive, while her family in total donated 40, she said.

Additionally, 10 percent of the Wild Wing Café's proceeds Monday night were earmarked for Read City USA.