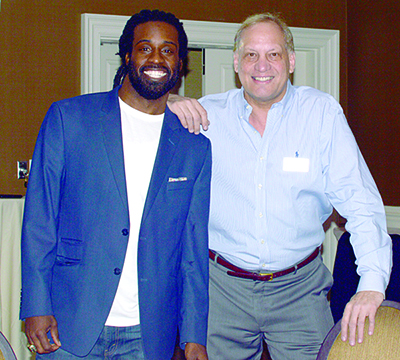 Derrick Furlow, former Tennessee Football player and Vol for Life, left, is greeted by Mike Baker of Mike Baker Insurance Consulting. Furlow was featured speaker at Farragut West Knox Chamber of Commerce Breakfast Speaker Series Tuesday, Feb. 18.
n Tammy Cheek tcheek@farragutpress.com

University of Tennessee Vol for Life Derrick Furlow has three objectives in his Champion Cheat Code: 1) "Be a part of something that's bigger than you; 2) work toward something bigger than yourself, and 3) make sure you remember 1 and 2."

He shared his formula for overcoming life's transitions at a Farragut West Knox Chamber of Commerce Breakfast Speaker Series in Farragut's Fox Den Country Club Tuesday morning, Feb. 14.

Furlow grew up in Section 8 public housing in southwest Atlanta, where he saw drugs being sold, violence and police.

"I had a fear of sirens because I thought the police would be coming to my door," Furlow recalled.

But, his mother's relentlessness to make a better life for her family led them from place to place until they moved to Griffin, Georgia, where he was introduced to organized sports and "things got better."

When she later met and married his stepfather, they moved to Arkansas, where Furlow recalled he was determined to leave and used sports as a vehicle in that determination.

He continued with his "get out of Arkansas plan," which ultimately brought him to the University of Tennessee, where he played football and was on the verge of getting a full-ride scholarship until a torn ACL ended his career in sports.

Having to come up with another direction for his life, Furlow said he looked back at past experiences and went into sales. That career change led him to become an entrepreneur, author, and business owner and to come up with his "transition formula" to handle the changes life throws at a person.

That formula is: "Anything that your growing through — not going through — is preparing you for what you're to," he said. "Access what you are going through right now (and ask), 'what value can you take away from it? How does it correlate to where you're going and how can you carry it forward to where you are at?'

"I was able to do that with sports into sales," Furlow said.

He used what he learned from sports: From learning the playbook to learning a sales script; from practicing the game to practicing the sales pitch with his team; and from reviewing the game to reviewing the sales pitch.

"So when I sat down with the client … I knew how they would respond," Furlow said.

While many face fears during a period of transition, such as losing a job, he said he uses fear as an offensive move.

Regarding his Champion Cheat Code, he explained the first code, being a part of something bigger than you" means "holding yourself accountable to a bigger scale." The second code, "working toward something bigger than you" simply means being a team player.