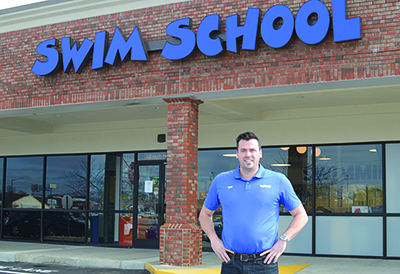 Davis Tarwater at his newly opened business, SafeSplash/Swim Labs Swim School, 120 N. Peters Road, Knoxville.

A 2012 U.S. Olympic gold medalist in the 4 X 200-meter freestyle relay, Davis Tarwater has brought the SafeSplash/Swim Labs Swim School franchise to his hometown and is teaching area children how to swim.

An All-American swimmer at the University of Michigan after a record-setting swimming career at Webb School of Knoxville, Tarwater opened for business Jan. 4 at 120 N. Peters Road. A grand opening is slated from 2 to 4 p.m., Saturday, Feb. 22.

'We're going to have activities for the kids, and local partners will be setting up booths," he said.

Additionally, there will be an autograph-signing opportunity with Tarwater and 2016 U.S. Olympic Gold medalist and former Lady Vols Molly Hannis, who will be doing a demonstration in the shop's swim labs, also called endless pools.

SafeSplash is a national company based in Denver, Colorado.

"We're primarily geared toward teaching children from 6 months to adults," he said. "We do everything from 'mommy time' classes to competitive lessons, but the majority of our customers will be between 6 months and 7 years old."

The store has a warm-weather teaching pool designed for "teaching young children, utilizing a best-in-class curriculum."

The model uses small class sizes – a maximum 4-to-1 student-instructor ratio, he added.

The facility also has the endless pools, or swim labs, with video capabilities for advanced competitive students. The pool also is used with special needs students.

Splash Safe currently is open from 3:30 to 7:30 p.m., Monday through Thursday; from 9 a.m. to noon, Tuesday and Saturday; and closed Sundays.

However, those hours "could be expanded over the next month. ... Someone will be here from 9 a.m. to 7:30 p.m., Monday through Friday)," Tarwater said.

Parents may sign up for classes by visiting online at safesplash.com, by calling 865-263-1800 or by visiting the store.