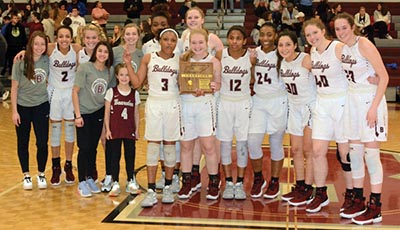 A happy bunch of Bearden Lady Bulldogs display their District 4-AAA Tournament title plaque after a 41-34 win against Maryville Monday night, Feb. 24, at BHS.

KNOXVILLE — Late game defense, specifically Bearden's patented match-up zone, and some clutch fourth-quarter play from its post players keyed a District 4-AAA Tournament championship effort on the Lady Bulldogs 'home court Monday night, Feb. 24.

No. 2 seed Maryville (26-4) fell thanks to a late charge from top-seed BHS (27-2), as Justin Underwood's Bearden girls won 41-34.

With key plays late from freshman post Avery Treadwell — a three-point play under the basket as part of six fourth-quarter poitns, two blocked shots and a handful of rebounds — Bearden overcame a 30-27 deficit to slowly pull away late.

Treadwell joined guard Jah-niya Bussell as Bearden's leading scorers, each with 10.

Bussell joined guards Zneyah McLaughlin and Emily Gonzalez and tourney Most Valuable Player Jakhyia Davis, senior post, on the All-4-AAA Tournament team.

"At halftime coach told us to keep playing hard and working hard as a team," Davis said. "I think we played well as a team and we pulled through to get the win."

As for defense, "I think rebounding was key to the win," Davis said.

McLaughlin finished with seven points, Gonzalez and Davis six each. Emma Stone scored two.

In the late going, "We came up with a gameplan and we executed," McLaughlin said. "Our will to win drove us so hard on the defensive end. We were like, 'We're not losing this game.'"

"We set very high standards for them, but they embrace them," Underwood said.

"I couldn't be prouder of them, they're so unselfish," he added. "In this day and age there's so much pressure to promote yourself ... but they just want to win.

"They're a family, they're sisters, and they work hard."

Star forward Denae Fritz led Maryville (27-4) with 17 points.