'Private' FHS grad tells of 'contributing factors'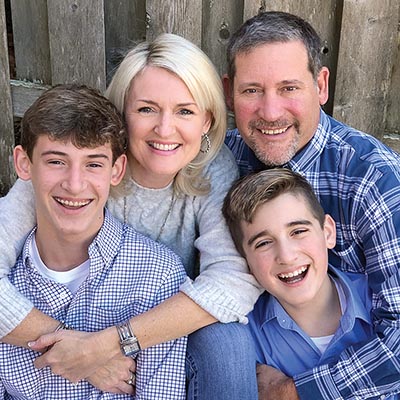 Farragut High School alum English Standifer, above right, who is suffering from a rare kidney disease, recently has gone public with his need for a transplant. He is pictured with his wife, Missy Standifer, and sons, Caleb, left, and Noah, who are all supporting him in his journey — along with many others in the community as a donor is sought.

English Standifer normally is fairly private, but an ongoing health issue has prompted him and his wife, Missy, to share information they hope will help others.

Standifer, who graduated from Farragut High School in 1988 and typically goes by "E," was diagnosed with the kidney disease FSG (focal segmental glomerulosclerosis) about 13 years ago.

While it can be genetic, high blood pressure — a condition which affected E — or diabetes can be contributing factors, Missy said.

It is unlikely that E may have inherited the disease from his parents, long-time Farragut residents Paul and Beverly Standifer, Missy noted, as there is no history of the disease in their family.

"We're not completely sure how this happened," Missy said, "But it's now part of our family's journey."

Fortunately, early steroid treatments had kept the disease in remission until about a year ago, when doctors noted E's kidney function began noticeably dropping.

"We were both devastated when they told us it looked like E would need a kidney sooner rather than later," Missy said last week, where the couple was interviewed in their home just off Lovell Road. "We kept things pretty private. Some of our friends knew, but we didn't even tell our sons (Caleb and Noah) until four months after we found out because we didn't want to worry them."

Strong in their faith — the couple first met in Sunday School at First Baptist Concord, where they continue as devoted members today — they prayerfully decided to go public as the search for a new kidney recently began in earnest.

"They told us just very recently his kidney function was down to 13 percent," Missy said, which means if a kidney is not found soon, E will have to start dialysis, a procedure he is ready for, as a transport fistula already has been implanted in his lower arm.

"With that, E agreed that we should go ahead and ask for help," Missy said.

"We're believers, and I know, when I die, I will go to heaven," E said. "I have faith and security in that, and I believe God is in control. And ultimately, it is in God's hands."

"But, from a wife's perspective, I want us to grow old together," said Missy, who was tested early on but was determined not to be a match for her husband.

"I know we will spend eternity together, but this side of heaven, I would love for us to have more time together on earth."

They were already working to find a donor through University of Tennessee Medical Center, where E has been on the transplant list since last year. Chances are much better for a long and healthy outcome for E — as well as many others who need kidneys — if they receive one from a living donor, Missy said.

E agreed to let Missy share their story two weeks ago on social media, and they also had postcards printed with contact information for Ashley Dennis, who is E's Living Donor Coordinator at UTMC.

"I prayed over that post and was so nervous about it," Missy said. "But it was like throwing a rock in the water. There have been so many ripples — people praying for us, sharing our story, and still others have offered to be tested."

"It really blows me away," E said. "It has been very humbling, and I just want to say thank you for the love and support everyone has shown us."

Testing is free and confidential, Missy said. A specific donor for E would need to have O positive or negative blood to begin with, then UTMC would evaluate further, checking for additional compatibility markers to ensure the best match.

However, "There are so many people going through the same thing that we are, and I would love to see this as a chance for others to hopefully find donors, too — not just me," he said.

"Some people we have met have been on dialysis for years, waiting for a kidney, and their stories are much more dramatic than mine," E added.

For more information, contact Dennis at 865-305-5340 or via e-mail at adennis@utmck.edu.