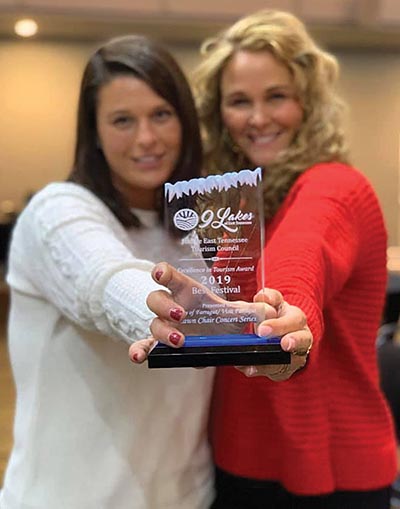 Farragut residents Amy Boling, left, and Shandy Dixon hold the Excellence in Tourism "Best Festival/Event" Award they and Town of Farragut recently won for their Lawn Chair Concert Series, which they founded five years ago.

Farragut residents already knew the summertime Lawn Chair Concert Series was one of the "best," but a recent award made it official.

The event, along with Town of Farragut/Visit Farragut, received an Excellence in Tourism award for Best Festival/Event from the Middle East Tennessee Tourism Council on Friday, Feb.7. The award honors events, festivals, marketing projects and individuals that have enhanced and increased tourism's positive economic impact, according to a Town press release.

Lawnchair Series founders Amy Boling and Shandy Dixon, along with Town Tourism coordinator Karen Tindal, accepted the award during an East Tennessee Legislative Luncheon hosted by the Greater Knoxville Hospitality Association.

"We were so excited!," Dixon said. "We are grateful for the recognition and even more grateful for the support from (Visit Farragut) in doing all the legwork it takes to submit for these things. It feels nice to be recognized for the quality of the series and the impact the series has on our community.

"We were pleasantly surprised to be recognized within the frame of Tennessee tourism," Dixon continued.  "It's not something we had considered. Amy and I feel very proud to receive an award for essentially bringing people together. That's what it's all about."

"I am thrilled that the LCCS has received this recognition," Tindal said. which includes a vibrant community, proximity to the interstates, local and chain shopping and dining options, beautiful parks and greenways, and a variety of special events throughout the year.

Dixon and Boling founded the series in 2015, and it has featured local and regional performers during summer months ever since in Founders Park at Campbell Station.

Dixon said they were inspired to begin the series after attending an Open Mic night at Farragut High School, where their sons had performed together with a band.

"We were in awe of how the students came out to support each other and that got our wheels turning," she said. "There was no place in Farragut for folks to come together, enjoy music and each other. We loved the music in Market Square and thought that maybe we could bring a bit of that vibe to town."

"My hope is to bring more interactive musical experiences to Farragut," Dixon added. "I really like it here and want to explore doing more creative events in unexpected spaces.

"We can't wait for Lawn Chair season 2020 and also hope to bring some new events to Town."

The series will kick off in June with an as-yet-unveiled line-up.