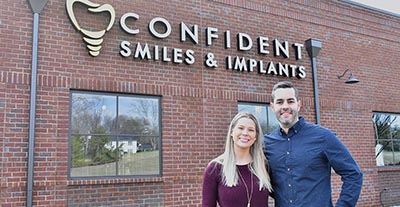 A husband-and-wife dental team, Dr. Luis and Dr. Tori Mariusso stand in front of their new business, Confident Smiles and Implants.

A husband and wife dentistry team are bringing personal and professional "confidence" to Farragut.

Dr. Luis Mariusso and Dr. Tori Mariusso are overseeing the finishing touches on their new dental studio, "Confident Smiles and Implants," located at 12802 Kingston Pike, Suite 101, in the newest freestanding building on the 29-acre Renaissance | Farragut campus.

"We are so excited to be here," said Luis, who is a general dentist with a passion for restoring smiles and placing dental implants.

Tori also is a general dentist who "loves" all aspects of general dentistry plus offers Botox for both esthetic and therapeutic treatments.

Luis pointed out statistics showing 178 million Americans are missing at least one tooth.

"We can help people restore their proper functions, allowing them to chew and smile again," he said, adding, "It is a great way to restore people's lives."

That desire spurred the very name of their new business.

"We wanted the name to be different but represent what we were trying to provide — giving confidence," Tori said.

The couple has been together since they met as college undergraduates in Florida, and shared the desire to pursue dental careers. As their relationship progressed, they prayed about their next steps.

"Dental school is very competitive," Luis said. "There are typically 12,000 applicants a year, but only 65 dental schools in 2013 when we applied."

They completed their dental studies at the University of

Kentucky in 2017, with Luis becoming certified in dental implant surgery through Implant Pathway in Arizona and the

McCracken Implant Institute in Alabama.

They moved to Farragut about a year ago, and have been practicing outside the area — Luis in Loudon County and Tori in Alcoa.

Once open, Confident Smiles will start with four treatment rooms. The office not only will accept major insurance plans, but also will offer a membership club for those without insurance.

Currently, the couple has a presence on Facebook and Instagram, and have a website that is under development, but where they can receive e-mail. Once it is up and running, clients will be able to make online appointments.

For more information, visit confidentsmilesknoxville.com.