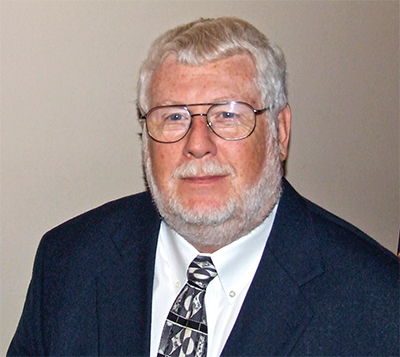 Nick Drewry

Well-established as a growing, innovative municipality by the early spring of 1988, the Town of Farragut — 8 years old — still lacked its own newspaper of record.

A local real estate mogul, a lifelong resident of what is now Farragut already known for giving back to his community, was about to change that.

Meanwhile, Nick Drewry was a newspaperman then having more than 20 years experience running small papers in Louisiana and Roane County.

"Sometime between late March and early April" in 1988, he seized upon an opportunity.

"… I was living in Kingston at the time. A friend of mine called and said there was an ad in the Knoxville News Sentinel, that some guy in Farragut wanted to start a weekly Farragut newspaper," Drewry said about Doug Horne, owner of Horne Properties, Inc.
Foundations: 40 Years of Farragut
Growing up in northern Louisiana, lifelong newspaperman Nick Drewry came to East Tennessee when "the Roane County News came up for sale in 1976, and I joined with some other guys that were in the newspaper business, and we came to Kingston and bought the Roane County News," he said. "The Roane County News was sold in 1987, right before Doug (Horne) decided to start this paper (now known as farragutpress)," he added. (See main story on this page) Getting what was originally called Farragut Press Enterprise off the ground in 1988, saying it was "really a struggle in the first couple of years" to gain advertisers' confidence, Drewry eventually was named president of Horne's Republic Newspapers Inc. (parent company of farragutpress). He retired in 2011. "Farragut Press Enterprise and farragutpress has been a real success story," he said. "… This is dear to my heart because I was here from day one to see it grow and prosper." As for a central hands-on figure to praise, "Tony Cox, of course, is president of the company now. I think he is continuing to keep all of it growing," Drewry added about Cox, also publisher of farragutpress and general manager of Horne Radio, LLC, who has been with Republic since the early 1990s. A graduate of Louisiana Tech University in Rustin earning a bachelor of science degree in marketing and management, Drewry began in 1965 "doing manual labor, worked on the press, continued to throw an afternoon paper route or two, helped load and unload the news print off the trucks" with the Rustin Daily Leader, he said. Earning a reputation as a "hard worker," Drewry was promoted to "camera room operator." The next step was "selling ads" in 1967, he said. "… I became the advertising manager about a year later, and then the general manager of the paper after that. "When the Roane County News opportunity came up, I jumped at it," he added, "I wasn't sure about going to the state of Tennessee, which I had never been to." While admitting he "loves Louisiana," Drewry added, "It took about a year being in East Tennessee (to say) 'I'm never going anywhere else, I'm going to life here the rest of my life.'" Living in Farragut since 1990, Drewry and wife, Kay Drewry, have two daughters, one son and four grandchildren. This weeks Foundations: 40 Years of Farragut podcast is presented by .
Drewry would lead the effort to get Farragut Press Enterprise off the ground. It took less than six months to publish the first issue: Sept. 13, 1988.

"All Doug Horne told me was, 'Farragut needed its own newspaper,'" added Drewry, who would go on to become president of Horne's Republic Newspapers, Inc. (includes farragutpress), which at one time owned 14 papers in five states. He retired after 23 years.

From the very start, Horne "was not much interested in anything negative in the way of hard news," Drewry said about his new boss in 1988.

"He did not want a newspaper that had an editorial page that criticized the Town," he added. "… He grew up in Farragut, went to high school here (FHS Class of 1963). He wanted it to be a little more than a cheerleader — but a big cheerleader for the Town and its people."

Presstalk

However, a unique aspect of the Opinion Page was giving citizens an anonymous forum to sound off on an almost endless variety of Town, area, state, national and international issues — Presstalk.

Originally, "We were asking for Letters to the Editor and were not getting as many as we thought we'd like to have to get the community involved," he said.

While not sure of the exact birth date of Presstalk, Drewry did share how he got the idea.

"I was traveling on newspaper business … and I was in Alabama and picked up a weekly newspaper, which had a Presstalk-type column in it," he said. "And it was loaded with local people calling in."

Bringing it back as an idea, "Mr. Horne was not as interested in it because it was anonymous," Drewry said before his boss warmed up to it.

Though a weekly staple of this newspaper for years, "We didn't let people use it for the wrong reasons," he said.

Relationship: Town-paper

About Town government's roughly 23-year relationship with farragutpress through his retirement in 2011, "It hasn't always been a time where they've gotten along with the paper," he said. "That was some personality clash between, in our case, more than one editor we had. "Sometimes asked hard questions they didn't want to answer."

Compared to another small paper in West Knox County in the 1980s, West Side Story, "We became much more inquisitive about what was going on over the years," Drewry said. "And that inquisitiveness got us in trouble with Town staff."

But in the end, "I thought everybody got along pretty well," he said.

Special involvement

As for what was unique about Town of Farragut versus other communities where he worked and managed, "The thing that I noticed … the community involvement here was so much greater than it was in other places, even in the early days," Drewry said, giving examples of "(homeowners) associations and their spokesmen and people who are forming community groups for almost everything.

"If the Town is considering a park, people come out of the woodwork," he added. "They want to help and give opinions of it and what they want in the park and how they want it used."

Such community involvement "has grown over the years to be a very big thing," Drewry said.

Overall growth

About business and population growth, "I would have never have believed Farragut would have grown this big and stayed this pretty," he said. "… It's been structured growth."

As for Town government over the years, "They've done a wonderful job with money, there's no doubt about it," Drewry said. "… It's been a well-run organization, in my opinion, since the very beginning.

"If you had asked me in 1988 … 'how long they would go without a (Town) property tax?', I would have said, 'Oh, maybe they can make it five or so years'" without one, he added about the Town's ability to avoid such a tax for 40 years.

One regret

Despite his stellar reputation in the business, Drewry shared one journalistic regret in 23 years.

"The people who formed to build the Town — I was not aware of that, honestly — we just missed that," he said.

"We could have done a better

job of (featuring) the Town Founders."