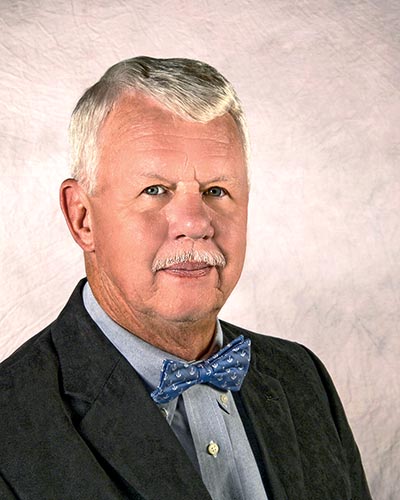 Developing a fascination with the comparisons and contrasts of the local governments he could observe from close range, Farragut Mayor Ron Williams' first taste of Town government would come in California.

Serving on Sugarwood subdivision Homeowners Association

"for 20-years-plus," which included a stint as its president, would further hone his ability to work with people.

Moving to Sugarwood in 1991 after living in metro-Chattanooga, Hixson, for about four years — beginning work with Sunnen in 1987 (see Profile on this page) — "I kind of got to know (former Mayor) Ralph McGill, my wife got to know (former North Ward Alderman) Marianne McGill and (former Vice Mayor) Dot LaMarche," Williams said.

"At that time the Sugarwood subdivision had an HOA that was in pretty bad shape."

With Williams, LaMarche and the McGills among others in HOA leadership, "We all worked together to get it in good financial shape" while "the recreation area expanded … and we put streetlights in," he said.
Foundations: 40 Years of Farragut
Long before Farragut Mayor Ron Williams first became involved with Sugarwood subdivision homeowners and Town government affairs, he was surveying the area — in a manner of speaking. "I was born and raised in Powell, in a farming community. And my uncle, Dave, he had a little ole mini farm, I guess you'd call it, out here off Black Road and Snyder (Road), over in that area, and he had a barn," said Williams, elected mayor in 2018 after first being elected as a South Ward alderman in 2016. "And he had a motorcycle shop in Fountain City and he kept dirt bikes in the barn, and my cousin and I, we used to ride dirt bikes all over Farragut … and I was quite young … in the '60s," he added. "I would come out to my uncle's because that's where the bikes were at." Education, work history A graduate of Knoxville Central High School, having moved to Fountain City during his middle school years, Williams said his training "at State Area Vocational School off of Liberty Street" in Knoxville "was something that my dad impressed on me that I needed to do — get a piece of paper that said I knew how to do something." Heading to California "shortly before the World's Fair" in the early 1980s, Williams said he "had some friends of mine that I had worked with in the past. … They brought me out there to run their manufacturing plant," which made engine parts. This manufacturing also involved "government contracts," he added. Estimating he was "out there until '87," Williams moved to Hixson (metro Chattanooga) to serve as "a field engineer … for a company called Sunnen, out of St. Louis, Missouri," a groundbreaking company concerning the construction of engines. "… I had quite a few very large projects going on down in that area," Williams added. While moving to Sugarwood in 1991, where he found the rancher-style home and necessary property he desired — with his wife, T.C. Williams having previously lived in Fox Den subdivision — Williams remained an engineer with Sunnen "for 28 years until I retired five years ago," he said. Williams and T.C. have one son. This weeks Foundations: 40 Years of Farragut podcast is presented by .
California liaison

From the early 1980s until 1987, Williams ran production in a manufacturing plant, employing about 260, near the towns of Garden Grove and Huntington Beach, California, which made engine parts while being important enough to secure "government contracts."

Town officials "were aggravated at manufacturers taking space that they thought should be used for making a bigger beach community," Williams said.

As a result, "I was appointed to be the liaison" to try and reconcile differences, he added. "I got to know a lot of people and how to work with them."

BZA, observations

Williams' first involvement with Farragut Town government came when then Mayor McGill "asked me to be on Board

of Zoning Appeals" in 2015, which he accepted.

"I've always been around Farragut (government), but I was not in the limelight," he said. "All the time I lived here. … I would go to meetings and sit at the back table during (former Mayor) Eddy Ford's terms (1993-2009) and Ralph McGill's terms (2009 until Williams was first elected a South Ward alderman in 2016)," he said. "I just had a general interest in the Town and how it operated. … I looked at a lot of things they did here that were different from what they did out (in California).

"I also studied Knox County and the City of Knoxville and how they did things, particularly with ordinances and zoning. … What the differences were, and whys," the mayor added.

One difference Williams pointed out about Farragut versus "City of Knoxville, Knox County, Blount County, Loudon County" is the requirement for all utilities to appear publicly, before Farragut Municipal Planning Commission, before commencing with any new projects.

"I think we're the only Town in the state of Tennessee that makes that happen," he

added. "A good example is 5G that came in; Verizon, AT&T,

they all had to come to our

Commission meetings.

Elected office bids

But even before his appointment to BZA, Williams' first bid for elected office came in 2014 in a South Ward alderman campaign against current Alderman Ron Pinchok, losing in a

close race.

Then came in 2016, although "for some reason nobody pulled a petition to run against me," Williams said about being elected, to server alongside Pinchok representing South Ward, not long after retiring.

Elected mayor in 2018,

Williams defeated former

North Ward Alderman Robert "Bob" Markli.

Future traffic improvements

A revamped Interstate 40-75 Campbell Station Road entrance/exit "will be a diverging diamond design, which will carry four times the amount of traffic of our current design," he said.

Seeking a government "Build Grant " to help to get this new design funded, Williams said the Board of Mayor and Aldermen will be "funding a study for justification" of such a grant during the 2020-21 fiscal year while "asking our legislators to try and help us on that."

In coming up with an answer to the flooding at that exit, which shut down traffic for a day in February 2019 and last February, "Once that exit is fixed, then all that water there will carry on the way it's supposed to and you won't have any more flooding," Williams said.

Concerning the alleviation of red-light intersection backups, Williams said new camera "radar" technology in line for installation next year tentatively will be able to "car count" at the busier intersections and trigger an adjustment to the red-light times.

To release big backups, the camera would "leave the light green for at least 30 to 45 more seconds to kind of flush the system," he said.

Furthermore, the cameras would be coordinated at all intersections "to flush the whole system out" on Kingston Pike, for example, not just at the Pike intersection with Campbell Station Road.

Also "hopefully" coming in the near future, Williams said, is a roundabout "at Watt Road at the (Mayor Bob Leonard) Park lower entrance. … You'll see the one on Union (Road)."

Restaurants sought

Among new businesses he's seeking, "I'm after a fish house right now," Williams said about restaurants. "The one that I'm after is The Captain's Galley."

In addition, "I'm after a cafeteria," Williams said. "… You look at how busy S & S (Cafeteria) is down in Bearden, that could be the same thing here."