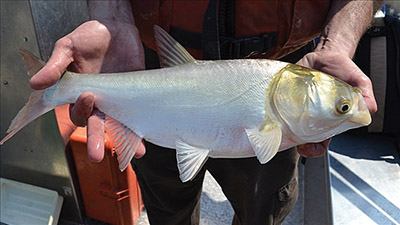 Asian carp are posing a threat in Tennessee's waters, but so far the carp have not been observed in upper Tennessee River reservoirs, including Fort Loudoun Lake, according to Tennessee Wildlife Resources Agency.

TWRA Aquatic Nuisance coordinator Cole Harty said there are four species collectively known as Asian carp: silver carp, bighead carp, black carp, and grass carp.

"These fish were brought to the United States primarily to help maintain aquaculture ponds," he said. "Unfortunately, they were able to escape those ponds into the Mississippi River during floods. They have since spread to some Tennessee waters through navigation locks.

"Silver carp and bighead carp are primary concerns for TWRA," Harty added. "Black carp are also a concern, but only a few individuals have been found, and all on the lower reservoirs (Kentucky and Barkley lakes)."

However, he warned Asian carp "enter the Tennessee and Cumberland rivers from the Ohio River, traveling through navigation locks into our downstream reservoirs.

"In areas where carp are highly abundant —numerous — such as Kentucky, Barkley, Pickwick and Cheatham lakes, (silver carp) have the potential to compete with young, native fish for food, and they can create a safety hazard due to their tendency to jump when frightened, often due to the noise of a boat engine. This behavior can create a safety hazard for boaters.

"Silver carp feed on microscopic plankton, not other fish," Harty added. "When carp are present in high numbers, they can compete for this food with our native sport fish that also rely on plankton. ..."

As for size, "Silver carp can exceed 60 pounds, but typically don't jump once they are over 10 to 15 pounds," he said. On the other hand, he warned bighead carp could grow in excess of 100 pounds.

"Our fisheries ... have not observed any impacts outside of historical ranges, though it is likely that the presence of carp in large numbers impacts the behavior of our native species," Harty said.

In the upper Tennessee River reservoirs, "We have received few reports from the public," he said. "We are working to stop the progression of these fish into East Tennessee and will continue to monitor for their presence."

The good news is Asian carp are "safe for human consumption and make excellent table fare," Harty said. "Silver carp and bighead carp have flaky white, mild tasting flesh that rivals crappie and catfish.

"... Because these fish are invasive, we encourage people to harvest as many as they can. Remember, though, it is illegal to possess or transport live Asian carp," he added. "We are providing incentives to commercial fishers to reduce the population in our downstream reservoirs, like Kentucky Lake and Barkley Lake, he said.

"... We are working to prioritize and implement barriers at navigation locks," Harty added.

"Do not move bait away from the body of water where it was harvested," he said. "Do not release live bait into any body of water outside of where it was collected."

Learn more and report any sightings as described on TWRA's website, https://www.tn.gov/content/tn/twra/wildlife/fish/asian-carp.html.