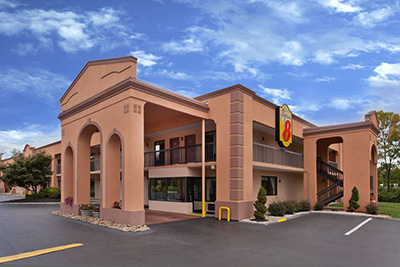 As business people continue to work from home amid COVID-19, Super 8 West Knoxville-Farragut, 11748 Snyder Road, is offering a quieter solution for a home office.

Ashok Patel, owner/general manager, is offering the rental of rooms at a discounted rate that people can use as a "home office."

"I have been thinking about this option for a while now," Patel said. "The lodging industry is moving to sell rooms in this manner."

So when he read an article in an issue of The Wall Street Journal, which he received April 22, outlining benefits of renting rooms at an hourly rate for office space, he recalled exclaiming, "'That's the proof we need.'"

As such, Patel is "selling rooms to workers who need to use my hotel rooms to accomplish their work.

"You've got people working from home, now, with the coronavirus, and they can't work — it's too loud or there's too much going on," he added.

"So, they have to work at night, the kids and wife are in bed, and that's driving them crazy."

This opportunity allows "a place for five, six, eight hours a day that they can work with Internet, cable (TV) and peace and quiet," Patel said. "We've got that option here.

"We've got high-speed Internet through fiber connection through Charter/Spectrum," he added. "The rooms are all wired up for Internet — it's also wireless."

Additionally, a client can order food from one of the nearby restaurants and have it delivered right to his or her room, he noted.

"Essentially, what we're talking about is a person renting a room for part of a day, and they would use that as a place to work … instead of having to work at home," Patel said. "You know, these video calls, (the home is) just too loud.

"We have regular customers who have done this for years," he added, also noting when he saw the article, he thought "this would be great for the people of Farragut.

"… This is the time to do it."

To get the service, he advised calling the hotel front desk (865-675-5566) and get the special price — a lower rate for fewer hours to use the hotel room during the day.

He does ask that customers use professional identification, such as a company badge or business card, to show they are there for business.