Top students profiled at Farragut, HVA, Bearden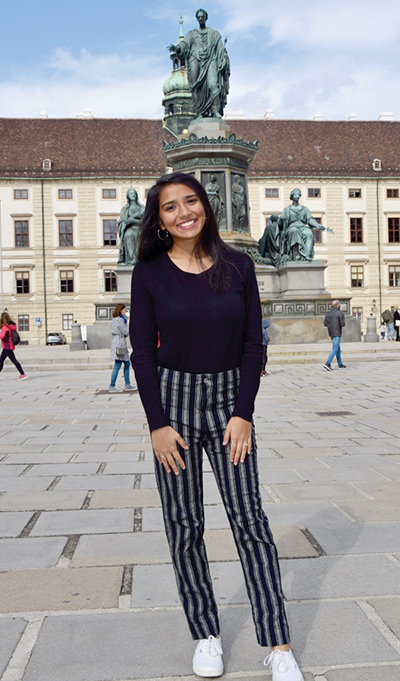 While the COVID-19 pandemic has delayed graduation ceremonies to June, it did not postpone announcing the valedictorians and salutatorians for Farragut and Bearden high schools and Hardin Valley Academy earlier this year.

Farragut High School

Farragut's 2020 valedictorian is Alisha Soni, who was profiled in the Thursday, May 7, issue of farragutpress. She will be attending the University of Southern California on a full-tuition merit scholarship, where she plans to major in environmental studies and global studies, with a minor in Spanish.

Prajwal Jagadish and Jessey Yang share salutatorian honors this year.

Jagadish immigrated to the United States from India at age 4 with his family, and came to Farragut schools as a sixth-grader. His interests have been primarily in STEM fields, to include medicine and robotics.

He was president of the school's Science Club his sophomore year, when it won the state Science Olympiad. The club also won the state Science Bowl tournament this past February — and, independently, Jagadish helped start and run an invitational science bowl tournament.

He was a member of the First Flagship Robotics Team, in which he was the CAD modeling captain. He also was active in Mu Alpha Theta, where he served as state treasurer, and was a member of the Model United Nations and French Honor Society. Outside of school, he was an EMT cadet with the Knox County Rescue Squad. 

Jagadish will attend Duke University this fall, where he will study biomedical engineering and data science with a goal of pursuing a research career in computational biology. 

He is the son of Jagadish Anjan and Shubha Suresha.

Yang, who has been active in HOSA – Future Health Professionals and served as president, said the group "placed at state all four years," with her personally winning first place in state competition Creative Problem Solving in 2019.

She also was secretary of Mu Alpha Theta, SGA class representative, and was on the executive board for the Freshman and New Students Committee.

One of her key focus areas has been on women's health and global health, and she was chapter founder, vice president and former president of the local Girl Up Chapter.

"I started a project under Girl Up this year called The Red Tent Project, to provide period care packages for women at the YWCA," Yang added.

"In college, I hope to travel abroad so that I can both serve others around the world and gain a deeper understanding of how cultural and social factors contribute to the propagation of health disparities.

"I also aspire to serve my community by providing health education to students and to underserved women.

She will be attending the University of Pennsylvania, and is the daughter of Qiu Zhang and Shihui Yang.

Hardin Valley Academy

Victoria "Tori" Hart is this year's valedictorian. She had an across-the-board interest in the arts, humanities and the sciences during her high school career.

She danced with Angela Floyd Schools and was an active member of the HVA advanced theater program for three years. She also was in Mu Alpha Theta, National Honor Society, and HVA's Progressive Hawks.

"However, the club I have been most involved in is the Technology Student Association — a STEM-based career and technical student organization," she said. "I served on the state level of this organization as the 2018-19 State sergeant-at-arms and the 2019-20 State president."

Hart, who is the daughter of Jason and Julie Hart, will be attending the University of Pittsburgh this fall in the Honors College and plans to study neuroscience. 

Ben Hancock is this year's salutatorian at HVA.

"I never really set being salutatorian as one of my goals throughout high school, I just wanted to do my best to set myself up for college and a potential engineering major and, along the way, ended up taking enough Advance Placement and honors classes to become salutatorian," he said. "I am very interested in the STEM field, which led me to join our school's robotics team my freshman year. The robotics team taught me so much, and solidified my passion towards being an engineer for a career."

Additionally, Hancock also was a member of the school's National Honors Society, Mu Alpha Theta and Earth Club, and worked at Hard Knox Pizza outside of school.

He is the son of Phillip Hancock and Heather Hancock, and will be attending the University of Tennessee, Knoxville to study mechanical engineering.

Bearden High School

Samaya Baljepally is the Class of 2020 valedictorian.

She was a member of the National Honors Society, and served as president; SGA, in which she was Senior Class vice president; and the Senior Committee, for which she was head of Senior Gift.

"They were all great opportunities to get involved in my school and local community," she said.

She also was a member of the Youth Health Board, which "was a really enlightening organization to be a part of throughout high school," Baljepally said. "YHB definitely taught me the significance of community betterment and is a big part of why I am interested in public health."

A research project her junior and senior years "helped me expand my interests in the medical field," she said. "I submitted it to competitions, and placed first in Tennessee at two statewide competitions, advanced to a national competition and became an INTEL ISEF finalist at an international competition." 

Baljepally also was very active in sports, having run varsity track and cross country all four years, having also played varsity golf for her freshman and sophomore years.

She said running "was so much fun. My teammates are some of my best friends and I have the best coaches, so we always had a great time. (It was) definitely a highlight from high school."

The daughter of Gayathri Baljepally and Raj Baljepally, she plans to attend Vanderbilt University this fall — where her older sister will be a senior — majoring in public health on the pre-med track, and minoring in political science and Spanish.

Parker Martz is Bearden's 2020 salutatorian.

"My interests range from competitive target shooting and tennis to history and computers," he said, adding he is "always up for kayaking and hiking with friends. My favorite thing to do, however, is to travel. I love it. COVID-19 ruined my plans to explore Italy and Greece this summer. But after all this time at home, I am really, really happy to simply be able to hike in the Smokies this summer." 

He earned the rank of Eagle Scout by initiating and leading a large-scale service project: the design and construction of LEGO building stations for children in Appalachia.  

"The involvement in that has meant the most to me. However, a charitable project I initiated and currently lead is called BUILT ON BRICKS," Martz added. "I am passionate about the importance of providing STEM-related experiences to elementary-age students, and I am pursuing it through the building and gifting of LEGO building stations to organizations serving underprivileged children.  

"Recipients range from Emerald Charter School STEM lab to The Child Advocacy Center of the Tennessee 9th Judicial District."

A few of his other activities included serving the community through Key Club International for three years and volunteering as a tutor in calculus, stats,and algebra II.

He played varsity tennis for Bearden for three years and was named a team captain his senior year.  

"It is safe to say I led the team to its shortest season ever," he joked.  

Martz was selected to attend Vanderbilt Summer Academy twice as well as Tennessee's Governor's School for Sciences & Engineering. This fall, he will attend the Georgia Institute of Technology with plans to study mechanical and materials engineering.  

He is the son of Scott and Tara Martz.