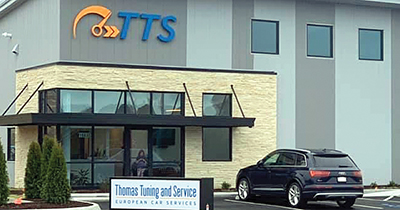 A Farragut couple has been walking in pure faith as they started a new business in the midst of the COVID-19 pandemic.

So far, "the Good Lord has greatly provided," said Ginny Herrick, who works with her husband, Thomas Herrick, at Thomas Tuning and Service, which they opened in February at 10630 Checkerboard Lane just off Dutchtown Road.

It was the culmination of two years of planning and building that placed them right on the precipice of the COVID-19 pandemic when they opened their doors.

Thomas, who worked in the automotive industry for more than two decades, primarily with the Harper Family of foreign car dealerships in Knoxville, had long wanted to start his own business, and actually began a sideline operation out of the family home in 2013.

"After moving through the ranks of the technical staff (Thomas is an Audi Master Guild technician) into middle management, he realized he was not able to truly fulfill his calling to use his skills to help others while operating under someone else's expectations," Ginny said.

"I worked for some wonderful people, but there were things I wanted to do differently," Thomas said.

"The heart of our business is that we want to help people with their cars because we care about the people who drive them and ride in them," he added. "Our philosophy here is accountability and integrity. We want to build trust so customers don't have to wonder if they really need to do what we recommend or worry about getting overcharged."

Thomas' ultimate goal is to eventually specialize in European cars, and as the name implies, he wants to provide tuning services to sports cars that can benefit.

Work has been steady for Thomas through friends, word of mouth and social media. He is the only repairman currently working, but the four-bay shop is ready for additional hires as business grows.

Although Thomas's grandfather, Dale Wertz, has passed away, he still credits Mr. Wertz for his focus on hard work and integrity.

"He taught me there is no use doing something unless you are doing it to the best of your ability," Thomas said. "I feel that with me, every day."

The couple are active in their church, Concord United Methodist, where they met in the youth group while Thomas was a Bearden High School student and Ginny attended Farragut High School.

Their paths crossed, again at church, several years after they both graduated, marrying in 2004. They have two children, Sam and Lily, and live in the Concord Hills home where Ginny grew up.

"I have such faith and believe in (Thomas) and am doing everything I can to support him," Ginny said.

The couple said they prayed long and hard about starting and opening the business, and know their prayers have been answered.

For more information, visit Thomas Tuning and Service on Facebook or call 865-288-3222.