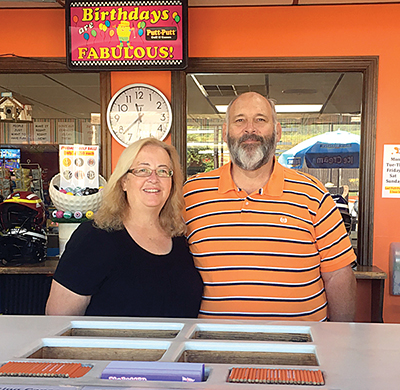 David and Marva Vaughan, owners, have been providing fun to Farragut families at Putt-Putt Golf & Games, 164 West End Ave. in Farragut, since March 9, 1991.

They are planning to host a milestone celebration, marking their 30th year, during the annual free Putt-Putt Day, with which it sponsors with the Town of Farragut, on Sept. 21.

Putt-Putt Golf &Games, a mini-golf chain, offers three separate champion 18-hole putting courses, seven baseball and softball batting machines, a family arcade and an ice cream shoppe among other features.

"It is hard to believe that we have been in business for (almost) 30 years," Marva Vaughan stated in a recent e-mail. "It has been a real blessing to have been able to provide a FUN activity for Farragut residents and the surrounding communities for such a long time.

"When you own your own business it is hard work, and there are always challenges no matter what type of business it is; but we have been fortunate to own a business where guests come to have fun with their family and friends," she further stated.

After almost 30 years, "You make a lot of friends, and it is fun watching their children come in now as adults and bring their own children in to experience the same fun that they had when they were younger," Marva stated.

Through the years, Marva observed the Town's growth and other changes.

"Farragut is definitely much different today than it was 30 years ago," she stated. "There are more businesses, more homes, more people and a lot more traffic than when we opened."

But for Marva, "Raising our children in the business is probably the most memorable experience of owning Putt-Putt Golf & Games."

"They were in primary school when they started working, and in those days we used to pay them in game tokens to help out," she further stated. "It wasn't long, though, before they caught on that there was a better way to get paid. They learned the value of hard work and they loved working at Putt-Putt as much as we do. 

"Putt-Putt Golf & Games has been a great business to operate as a family. Also, being a corporate sponsor for the school coupon book campaigns has been truly rewarding. We have been able to donate millions of dollars in passes and prizes over all these years, and it is nice knowing that it has benefited such a worthy cause."

Before they began the business, the family lived in Southern California, where David was a corporate credit and finance director for a large electronic distribution company and Marva was a civil engineering technician for the federal government before leaving to care for their children.

Marva recalled they were inspired to get into the Putt-Putt business through their own experiences.

"We collectively came up with the idea of owning a Putt-Putt Golf & Games, and the Smoky Mountains drew us to East Tennessee," she stated. "Living and working in Farragut ended up being the perfect choice."

Approaching 30 full years, they would "absolutely" do it again, Marva said. "We always knew that one day we would own our own business and what better business to own than Putt-Putt. We have no regrets.

"We get so much satisfaction watching all the fun our guests have when they come out to play," she further stated. 

"We enjoy going to work each and every day. It means so much to us and we appreciate being able to have been part of their special day."

During the worst of the COVID-19 pandemic, as with most businesses, Marva said they closed for about six weeks.

"We have always been known for having a very clean facility, but as a result of current events, we have increased our cleaning cycles and sanitize more of our facility more often," Marva stated.

The business is open from 10 a.m. to 10 p.m., Tuesday through Saturday; from noon to 6 p.m., Sunday; and closed Mondays.

For more information, call 865-675-5558.