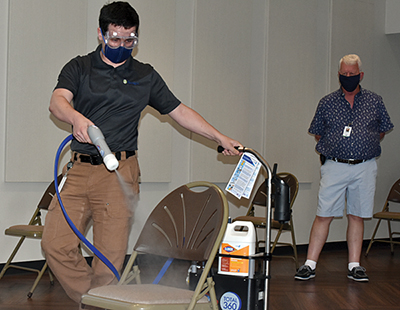 To feature more than 40 local businesses, Farragut Health & Wellness Expo will be hosted by Shop Farragut/Farragut Business Alliance, in partnership with Town of Farragut, and presented by Tennova Healthcare's Turkey Creek Medical Center.

The Expo will run from 10 a.m. to 3 p.m., Saturday Aug. 8, in the new Farragut Community Center, 239 Jamestowne Blvd. near North Campbell Station Road.

Public admission is free. Parking is available at the Community Center and nearby at Village Green Shopping Center.

Patrons can visit booths from a wide variety of services and retail businesses, which will provide products and advice to promote a healthy lifestyle.

For example, Amramp will show how it is a leader in mobility access. ACTFAST, Inc., specializes in CPR training and other emergency techniques. JCPenney, Kat's Lash Lounge & Wax Studio, International Flair Jewelry, Young Living Essential Oil and Ease Into Life, LLC, will feature stress-relieving lifestyle choices.

Clean Eatz and Clean Juice are providing area households with healthy diet choices. Fitness Together, Orangetheory Fitness, the Neighborhood Barre, Anytime Fitness, Apogee Fitness & Training, Gold's Gym and Campbell Station Jazzercise will give information on how to approach daily and weekly exercise regimes.

Edward Jones and Cyan Insurance Solutions will be on hand to discuss financial wellness. STAR Riding Academy will explain its special health programs.

Members of the University of Tennessee Medical Center Advanced Orthopaedic Center & Bariatric Program plus East Tennessee Spine & Sport Physical Therapy, Dignity Knoxville, Knoxville Aging In Place, PT Solutions and OsteoStrong of Farragut will discuss their offerings for you and your family.

Pinnacle Home Improvement, TN Water Technology, HIS Security and Technology, American Home Pro and PestOps will show you how to help reduce the stress at work and home with their products and services.

One of Farragut's newest

business, Confident Smiles and Implants, will take the trepidation out of your next visit to the dentist.

MEDIC of East Tennessee will be on site with its mobile unit and be able to accept blood donations during the Expo.

SouthEast Bank supports the Expo as a Gold Level Sponsor. MLILY Mattress, TDS Telecomm, Wilkerson Windows and the Farmers Insurance Office of Collins & Wilkerson are Silver Level Sponsors.

MD Wellness Center, Knoxville TVA Employees Credit Union in Turkey Creek and Farragut Planet Fitness are Community Sponsors.

Press release courtesy of Stephen Krempasky, Shop Farragut/Farragut Business Alliance executive director.