HVA players on split squads in East Tennessee area baseball league at Smokies Stadium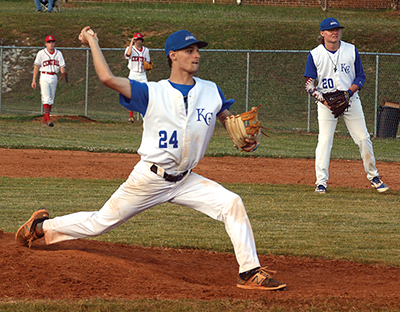 (Editor's Note: While Hardin Valley Academy players make up the majority of the Knox Hawks and Valley Hawks high school teams currently playing in the East Tennessee High School Baseball League at Smokies Stadium in Kodak, the school is not affiliated with this league in any fashion — including sponsorship, coaching or use of school branding — per TSSAA rules)



KODAK — High School baseball is back in East Tennessee, and the Hardin Valley community has two teams playing in the Western Division of the East Tennessee High School Baseball League at Smokies Stadium.

The Knox Hawks are comprised largely of rising high school juniors and seniors while the Valley Hawks are comprised largely of underclassmen.

Both teams are coached by Hardin Valley Middle School head coach Rick Carty.

The season opened for both teams Monday, June 8, with the Knox Hawks and Valley Hawks playing each other. The varsity team came away with an 11-0 victory.

But despite the lopsided score, Carty said he was pleased with the effort of the younger players. "Our younger kids really held their own," he said. "We had a few fundamental mistakes, but those are mistakes that young players are going to make."

The coach said he was particularly impressed by Valley starting pitcher Brandon Wright.

Wright, a rising freshman, threw the first two innings against the Knox Hawks and didn't surrender a run.

"Brandon is a rising freshman and he threw two great innings. I think he gave up a couple of hits, but that was it," Carty said.

Carson Hoffmeister, a relief pitcher for Valley, had three strikeouts in two innings during the contest.

In the opener, Carty said Logan Ozias had three hits and drove in four runs for the Knox Hawks.

Austin King and Jackson Hurst had two hits each, while King knocked in two runs in the opener for the varsity Hawks.

Regardless of outcome, Carty said it was great just to see the teams on the field again.

"I know all of our younger guys because I've been coaching at the middle school

for three years now," he said. "But I'm

getting to know our varsity guys, and

it's great to see everybody get a chance

to play.

"These kids have all lost a season of bonding, and it's nice to see them on the field and bonding again," he added.

Other games

The summer campaign continued for both teams Tuesday, June 9, with mixed results.

The Knox Hawks improved to 2-0 with a 9-2 victory versus Mean Green, a team from Strawberry Plains, while the Valley Hawks were competitive despite a 3-0 loss to the Seymour Lumber Kings.

The Knox Hawks got their offense clicking early against the Mean Green.

"We hit the crap out of the ball. We really hit the ball well," Carty said. "Our first four hitters got four singles."

Trent Tillery, who was playing in his first game of the summer, went 3-for-4 with a triple, an RBI and two runs. Ryan Bell also added two hits.

King and Mason Speanburgh each drove in two runs.

The Valley Hawks, meanwhile, got two hits each from Hoffmeister and Will Webb.

Trent Chandler and Noah Glenn each had a solid outing on the mound for Valley, according to Carty.

Chandler threw four innings and had three strikeouts, while Glenn went two innings and fanned three.