Payne co-chairs upcoming Alzheimer's Tennessee walk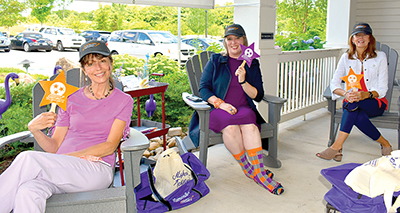 Mary Lynne Payne and Stephanie Helton are naturals as this year's co-chairs for the Alzheimer's Tennessee Walk to Make Alzeimer's a Memory.

Payne, as marketing director for Avenir Memory Care, works daily with its residents — all of whom suffer from the disease. It is a role she has enjoyed and made her own for the last eight years, while also working hand-in-hand with Alzheimer's Tennessee.

Helton has a more personal reason to participate, as her late father died at 62 almost 16 years ago, just four years after being diagnosed with the early onset version of the disease.

"I've been involved with Alzheimer's Tennessee on and off ever since," she said.

Both are passionate about helping with this year's fundraiser, especially since the pandemic has forced it to become a "drive-up" event at All Saints Catholic Church from 9 a.m. to noon on Saturday, June 27.

Payne also co-hosted a virtual Happy Hour/Orange and Purple Pep Rally Thursday, June 11, with Julie Blaylock, Farragut West Knox Chamber of Commerce president/CEO, which was held on the porch at Avenir as part of the group's ongoing virtual networking opportunities.

At that time, Blaylock shared the news that The Rotary Club of Farragut, of which she is a Board member, is donating $2,000 toward the Walk fundraiser.

In addition to appearing at various events and on local television, radio and social media promos before the event itself, Payne and Helton will be onsite June 27, as will Avenir's service kitty, Lulu Pearl.

Participants are asked to visit the church campus, decorating their cars if feeling inspired, and tune into the program via radio or smart phone (specific instructions will be given onsite).

Volunteers and car hosts will help guests register, accept donations and deliver the incentive gifts earned.

"Having a drive-in, verses a walk, is so much safer for our many seniors who participate, and this is going to be fun," Payne said. So far, this year's Walk has raised more than half of its $250,000 goal, with donations sitting right around $135,000 earlier this week. Hopes are high the next two weeks — donation deadline is June 30 — will met the goal, with all funds raised going directly to Alzheimer's Tennessee.

"There is a lot of confusion between ALZTN and the Alzheimer's Association," Payne noted. "Alzheimer's Tennessee is local, and helps people locally deal with this devastating disease, while the Alzheimer's Association is national.

"They do a lot of good things, but what we are supporting right now, with the walk, will help maintain the programs currently in place that are so vital to help people right here in Tennessee."

For more information or to donate, visit Payne's Facebook page.

Avenir's service cat

also seeking donations

Lulu Pearl is a regal white Turkish Angora, and a senior herself. Payne rescued her several years ago and brought her in as a service cat at Avenir.

She visits the residents regularly, and they always enjoy it when she is well enough to accompany Payne to work. But she suffers from kidney disease.

Lulu Pearl is in the running to serve as Alzheimer's of Tennessee's 30th Anniversary Memory Walk Mascot for 2021 if she can secure enough donations.

So far, she almost is halfway to her $2,000 goal. For more information or to donate, visit www.alztennessee.org and search for Lulu Pearl, which is listed as a member of the Avenir Angels.

For more information on how to become a sponsor or start a team, visit www.alztennessee.org.