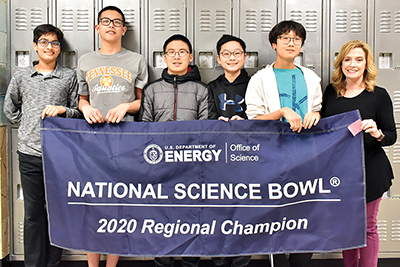 Five Farragut Middle School students won the state U.S. Department of Energy Science Bowl earlier this year, earning the right to compete nationally.

Vivaan Singhvi, George Hu, Nick Yan, Caleb Han and Christ Keum — all members of the school's A Team — were set to attend the national event originally scheduled to take place in May in Washington, D.C., but was cancelled due to the COVID-19 pandemic.

Instead, and under the guidance of seventh-grade science teacher Kathy Browning, their coach and sponsor, the group was able to compete virtually Friday, June 5, against 41 teams, ultimately placing among the top 16 in the nation.

"This was our best finish, and I think it was the best finish of any middle school from Tennessee in the history of this national competition," Browning stated in an e-mail.

She said the school will receive $1,000 from the U.S. Department of Energy in recognition of the team's efforts.

"I am beyond proud to be their coach," she added.

Initially, the group had beaten 20 other state teams to win the Tennessee Science Bowl.

Additionally, the school's B Team "also did well" in the state competition, Browning said.

FMS teacher Rachel Brown also assisted as co-coach and co-sponsor.