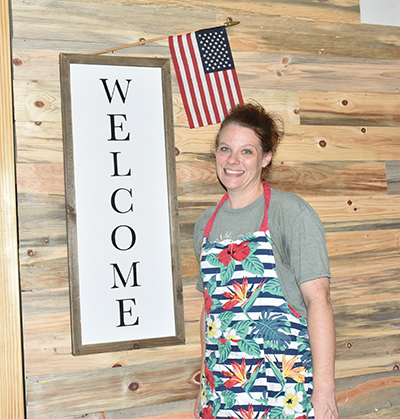 Farragut's longtime restaurant, Mario's Pizza and Grill in the Stonecrest Shopping Center, is rebranding — but it won't be losing any of the favorite pizzas and meals customers have come to love.

Owners Katy and Ken Bagdon, who purchased the business from Janet and Randy Bulmon last November, have chosen "The Farragut Table" as its new name.

The couple, who currently live in Chattanooga, are working on relocating locally "very soon," but had been holding off a bit until the school year concluded for three of their six children.

Katy, who oversees the day-to-day operations while Ken works full time for Volkswagen, said they both worked for some time on coming up with the new name.

"I can't tell you how many names we went through before we settled on "The Farragut Table,'" Katy said. "We love what the restaurant has been for its customers. But from the very beginning we wanted to make it our own."

They settled on "Farragut," obviously as a nod to its location, but added "Table" specifically "because of its meaning," Katy added. "A table is a place to get together, but it also is a place to come together and to gather.

"That is what we want to do here — make it a place where people want to come — from families to meet for lunch or dinner, to teenagers who want to meet after school. We want it to be a place where they can come together and we can serve them."

Currently, Katy oversees a staff of seven employees. But just last week, as the dining room has reopened, featuring brand-new tables, chairs, flooring and decor, Katy advertised for a full-time manager, cook, server and customer service representative.

While COVID-19 forced Mario's into curbside or delivery only, as it did most restaurants, Katy said in a way, the forced shutdown was helpful.

"When COVID hit, we took advantage of the down time when our dining room was shut, to make the changes we had been wanting to make," she said.

Ken's very-present contributions are visible in the dining room, as he handmade the tables and is working on several more, which will be added when more restrictions are lifted.

One thing that is not changing is the menu.

"From the very first time we ever tried it, the food was amazing," Ken said. "The recipes will not change, but we have decided to pare it down some from its original six pages."

"We also might add some pizza toppings, too," Katy said.

Mario's specialities include handmade pizzas, wings, appetizers, hamburgers and several types of sandwiches.

They also have added more drink options — and just last week a new gelato cooler arrived, which will be a new offering "soon," Katy promised.

"We are really hoping to get more of a younger crowd coming in," she added. "We would love it if it was a place where kids would cone by and hang out for a couple of hours in the afternoons."

The business also does catering, and since it currently is not open before 3 p.m., clubs or organizations that would like to meet earlier for lunch "are welcome," Katy said.

"We would just need their reservations, and we don't charge for the space," she added.

For more information, call 865-675-8660, visit the location at 10943 Kingston Pike or visit its Facebook page, Mario's Pizza and Grill.