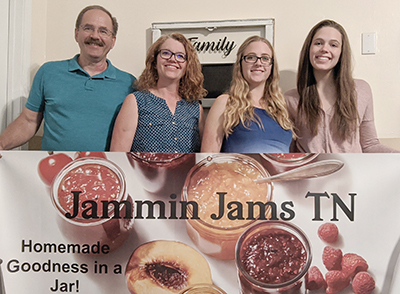 Since Dixie Lee Farmer's Market opened May 2 at 12740 Kingston Pike in Renaissance | Farragut, vendors such as Janice Hullett, owner of Jammin Jams TN, is back on the scene with her jams and preserves.

While Jammin Jams TN is a sole proprietor business, Hullett said her family participates in various ways in helping make the jam, as well as set up at local farmers markets at Dixie Lee and Maryville each Saturday.

"My husband, Ralph Hullett, helps create the jam recipes and meets and greets our customers at the local markets," she said. "Our daughters, Hannah and Rachael Hullett, also participate in the business by prepping fruits and vegetables to make our jams, design our jam labels and make sales to our customers.

"We also participate in other local events supporting high schools, craft fairs, fundraising (events) and support area communities," Hullett added.

While the family lives in Maryville, Hullett said, "We thoroughly enjoy shopping in Turkey Creek and Farragut areas shops.

"We became acquainted with Dixie Lee Farmers Market through its owners (Ginger and Jeff Cannon), and area vendors that we participate (with) in other events," she added.

Ginger Cannon said Dixie Lee Farmers Market opened for business Saturday, May 2. Customers can stop by from 9 a.m. to noon on Saturdays throughout the summer.

"We currently have 23 vendors, but the later market can have up to 35 to 40," she added.

"We have a booth on Saturdays at the Farmers Market," Hullett said.

Cannon said the market stays open every Saturday morning, rain or shine, until Oct. 31.

This is Hullett's first year with Dixie Lee Farmers Market.

"Our business was started in Aurora, Colorado, about six-and-a-half years ago, and it originally was a hobby and became (a means of) fundraisers for our daughters and other students to go on mission trips through our church," she said.

"As our popularity grew with our delicious jam flavors, we've been starting out into more markets and local events in Colorado," Hullett added. "We set up a website and online store and we have been growing ever since."

The Hulletts moved to East Tennessee in 2018, as their daughter, Rachael, started attending the University of Tennessee pre-med school.

"We continued our jam business here, locally, getting set up with Maryville Farmers Market and local craft fair events, expanding into Knoxville and Farragut," Hullett said. "We prepare all of our jams at Century Harvest Farms certified kitchen located in Greenback.

"With our online store, our customers can make purchases and have them shipped wherever they need them to," she added. "We still receive online orders with our Colorado online store and maintain a customer contact and them."

Orders placed online are shipped by flat rate U.S.P.S. mail. Delivery takes three to five days. "Our jams have been shipped as far away as Canada and Ireland," Hullett noted.

"Each year, we add a couple new flavors, and this year we have added Pineapple Jalapeno and Piña Colada jams," she added.

"All of our jams can be used to marinate meats and seafood and are even complement favorite desserts like ice cream."

Customers can contact Jammin Jams TN through its website at jamminjamstn.com or e-mail address at jamminjamstn@gmail.com.

"We also have a Facebook page, Jammin Jams TN, in which we post our activities," Hullett said. "We also post recipe ideas on our website."

To find out more by phone, call 865-816-3023.