Concord Quest VBS with FBC moved to Aug. 3-5; Concord-UMC decides to hold virtual VBS July 13-17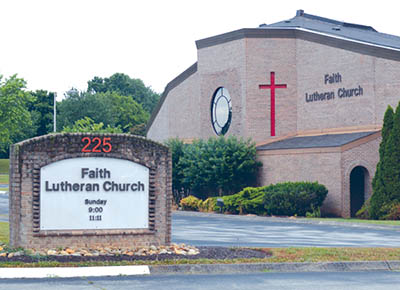 While some Farragut churches are now holding live gatherings, others are slowing looking at reopening plans.

Meanwhile, plans are being made for at least two Town churches to conduct Vacation Bible School.

First Baptist Concord, 11704 Kingston Pike, which opened doors to its congregation Sunday, May 31, with in-person services at 9 and 11 a.m., has moved its VBS while offering a new setting.

Concord Quest, which will run from 6:30 to 8 p.m., Aug. 3-5, is taking it to the community, said Jason Jennings, FBC pastor of Children's Ministry.

"Concord Quest will be hosted by our church members in their neighborhoods," he explained in an e-mail. "Kids that attend will be engaging in dynamic worship, creative Bible lessons and fun games and activities."

More information is available at concordquest.com.

Concord United Methodist Church, 11020 Roane Drive, is looking at a tentative Sunday, July 12, re-worship service opening date.

The Rev. Larry Trotter, senior pastor, sent out an e-mail last week to congregants, noting the Holston Annual Conference, which oversees United Methodist Churches within its district, has approved the church's reopening plan.

The e-mail stated initially that two 45-minute in-person services would take place July 12: contemporary at 8:45 a.m. and traditional services at 10 a.m. The church will continue to offer an online-only contemporary service at 11:15 a.m.

"It should be noted that we could decide to postpone opening based on our comfort level with the number of COVID-19 cases in our area, or the Holston Conference could make a decision to postpone church openings in Knox County based on COVID-19 cases," Trotter added.

Meanwhile, CUMC is going virtual with its VBS.

"We'll be doing the Rocky Railway Vacation Bible School," which is train-themed and done through Group Publishing, said Heather Hayes, CUMC director of Children's Ministry.

"So we'll be online the week of July 13 through (July 17)," she added. "Kids, each day, will click in and be able to join in, watch the opening and closing shows, the Bible stories, crafts, science time.

"They can follow along each day and add to it."

Before that, however, staff is preparing packets for the youngsters.

"Inside the packets, for the children to come pick up July 8, 9 or 10, they will have the art activities, science activities and a few other things to go along with Vacation Bible School that week," Hayes said.

"Each day they'll have a bag inside the packet that will be labeled, and it will have all the things they need for their lessons," the Children's Ministry director added.

Also on Wednesday, July 8, staff will do a drive-through parade for packet pickup, Hayes said. "People from our church are going to be lined up to wave at the kids and greet them.

Still, "We'll be observing social distancing," she added. "We're doing a popsicle giveaway (and) we're doing what we call Pelt the Pastor — (children are) going to throw water balloons from their car at different pastors that are brave enough to stand in front of the target."

The VBS also is open to children who are not members of CUMC, Hayes noted.

"We are limited to 300 (children) because that's as many supplies as we can have," Hayes said.

Families are asked to register online at concordumc.com/events

"You have to be registered to get the packet," she added.

Other churches services

Faith Lutheran Church, 225 Jamestowne Blvd., held its first in-person worship service Sunday morning, June 14, since it stopped holding services in March.

"Everyone is just excited to see one another," said the Rev. Bob Stelter, Faith Lutheran pastor.

At the same time, "We are also still doing online services," he added.

"We picked up a lot of viewers … from all over. And, we invested in a camera system. (COVID-19) has forced us to be creative."

In considering its re-opening, he said, "We have a group of leadership (members) who decided it's time to go."

Saint John Neumann Catholic Church, 633 St. John Way, started public services at the end May. A little more than 100 parishioners gathered for the 10 a.m. Mass service Sunday, June 14.

It will continue with live-streamed Masses.

According to SJN's newsletter, masses are live-streamed at 10:30 a.m. on Sundays and 8:05 a.m. Monday through Saturday. Mass streaming can be found at sjnknox.org/articles, on Facebook at Facebook.com/sjnknox and on YouTube.

Faith Promise Church in West End Center, 11237 Kingston Pike, also started public services Sunday, June 14.

Farragut Presbyterian Church, 209 Jamestowne Blvd., opened up as well, holding services in its parking lot.