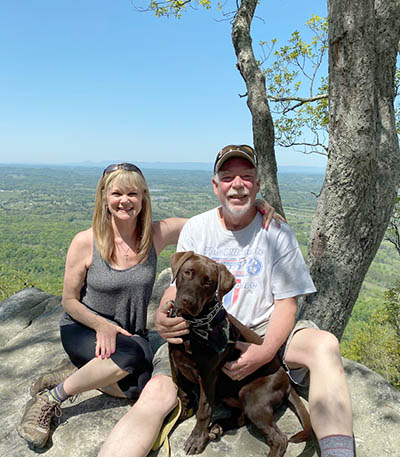 Farragut couple Jerome and Cynthia Moore used the COVID-19 lockdown as an opportunity to explore some of the local hiking trails with their new chocolate Labrador puppy, Deacon.

"We hiked between 5 and 7 miles each weekend starting in the middle of March through the end of May," Jerome said. "We found 12 amazing trails within 30 minutes of our home in Farragut. We choose the local trails because the Smokies were closed due to the shutdown — and of course, they don't allow dogs in the back country, so we could not have done those anyway and taken our puppy along.'

The family started "with Seven Island State Park and moved the second weekend to the East Lake Shore Trail, where we met a fellow hiker that gave us information on the All Trails App," Jerome said.

"We then used the All Trails App to locate other hikes of similar length within 30 miles of Farragut, and we were amazed at what we found. The All Trails App let us not only find trails in our area, but then record our hike and combine the recording with pictures we were taking," he added.

"And then it also tracked us by GPS, so we knew exactly where we were at all times and how many miles we had hiked. We were able to find hikes around some of the most awesome lake views in the east, as we hiked around Tellico Lake, French Broad River, Tennessee River, Fort Loudoun Lake, Norris Lake and Melton Hill Lake."

Meanwhile, "Our puppy Deacon (10 weeks at the time) learned to swim on our first hike, so we had to keep close to the water for him to practice," Jerome said.

"We saw some great fauna and flora from beautiful wild flowers to the majestic House Mountain views, and we received God's blessing of fresh air, great exercise and amazing scenery," he added.

Jerome said he was able to continue his mission to lose 40 pounds by summer — he made it by May 30.

"This year we are celebrating our 30-year wedding anniversary, so it was so nice to rekindle our love for hiking and also strengthen our relationship on a very special year," he said.

Their hikes also included Haw Ridge (Oak Ridge), Loyston Loop Trail (Norris).and Hall Bend Trail (Lenoir City).

IC King Part (South Knoxville), Concord Park Trail (Concord), East Lakeshore Baker Hollow Trail (Lenoir City) House Mountain Trail (Knoxville), Sharps Ridge Trail (Knoxville), Forks of the River TWRA Small Wilderness (Knoxville), Iams Nature Center (Knoxville). Now that we have explored them we plan to start going back to our favorites that have great views and water so Deacon can continue to swim this summer, he has LOTS of energy that needs burning off.

We made the best of the Covid 19 situation and found some utterly wonderful relaxation locations within 30 minutes of home. It just goes to show that it's what you make of your situation that makes the situation bearable and this was our answer for the Covid 19 Funk that would have gotten us down if we had not got off the couch and out of the house. We are very happy we decided to get that Lab Puppy in late January, without him we would have probably stayed on the couch and never got out of our Covid 19 Funk.