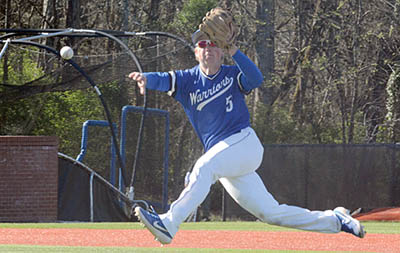 KNOXVILLE — Providing the eventual game-winning home run early, then closing the game as Christian Academy of Knoxville's top reliever — not to mention his workout as Warriors catcher for six innings — senior Andrew Kribbs was quite a busy man Friday afternoon at CAK during the eight-team DeMarini Classic.

"Coming into pitch I'm already loose and warm (due to catching). I have that mentality to get ahead (in the count) early," said Kribbs, closing things in the top of the seventh inning against Science Hill, allowing no hits and one walk with one strikeout, as CAK edged the Hilltoppers 2-1 April 2. The visitors' record dropped to 8-4.

The Warriors (13-4) finished a perfect 5-0 during the Classic, which began Thursday, April 1, and ended Saturday, April 3.

Christian Academy also beat Rossford, Ohio 10-4; Hamilton Heights, Indiana 6-4; Upperman 3-0 — combined one-hitter with 14 strikeout from senior starter Tanner Loyd, 4.2 innings, and senior reliever Tyler Wood, 2.1 innings — and Mt Juliet 12-0 to enter the week 13-4.

After the Science Hill win, head coach Tommy Pharr said, "We've not swung it very well, but we're pitched really well and played pretty good defense."

Winning pitcher Elijah Dew went five innings, as the senior allowed an unearned run and five hits with seven strikeouts.

Sophomore reliever Luke Jones worked the sixth inning, giving up one hit but otherwise retiring the side.

About his second-inning solo home run, Krebb said, "I believe it was a change-up, he left it up a little bit."

A first-inning triple by Luke Harms, senior second-baseman, was followed with an RBI floyout by senior Ryan Degges to produce the other CAK run.

Seniors Owen Brooke and Grant Berrier had the other Warriors hits.